pop! goes the artist
by Bing Futch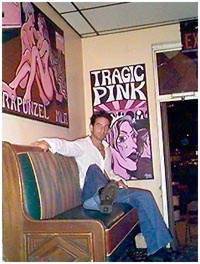 Though it's a long way from the cultural meccas of Los Angeles, New York and Chicago, Orlando has its fair share of diversity. The O-Town buzzword seems to focus primarily on the state of music lately, but we've got a few rock and roll artists as well–names like Keith "Scramble" Campbell and Carl Knickerbocker come to mind. Matthew Lee Rosen is another name that will soon drift among the lips of art fans all over. His bold and singular style invites the eye on a dimension-warping trip, forced perspectives and grotesque caricatures of people fill his world, though don't tell him that.
"I don't like the word 'caricature', I don't like 'pop-art' either, it's a big turn-off to a lot of people who like to view the art world," says Rosen. "They hear those things and they're very turned off–'oh that's not art, that's just cheese'." He concedes that his work probably falls best under the category of "pop-art" and is influenced by the works of Henri Toulouse Latrec and poster artists like Justin Hampton. Rosen combines thickly rendered monochromatic scenes with corresponding text. His first canvas, conceived after what he calls "sexual interaction", was "The Secret". Two lovers intertwined, their huge eyes have no pupils and almost seem like the peepers of alien creatures. Most alarming is their absence of mouths. The forced- perspective of "Standing On Top Of The World" literally turns the viewer into the ground on which the subject of the painting stands on. Bold lettering spells out the scenario clearly.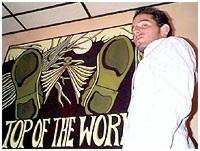 Rosen expands, "I think the titles that I throw out there are very creative and they capture thought in many people, they become intrigued with what I say, and they look for that in the painting, whatever the title is–they look for that and understand the painting." Instead of using an abstract approach and allowing the viewer to draw their own conclusions, Rosen wants them to share the experience. "A lot of paintings are done with the purpose of confusion, they want people to think all kinds of things, I want people to think of exactly what I was feeling when I painted the thing, that exact impression."
Rosen was asked to display several of his paintings at Java Jabbers Coffeehouse in June of 1998 and he has regularly rotated out older works for his more current efforts. He was also invited to tag along with local tribal gods Umoja and do a series of performance pieces. This helped him meet plenty of movers and shakers in the developing arts scene, including Shayni from the Sapphire Supper Club. "You gotta shoot for the top, I think this is a very good marketable thing, I'm trained and very knowledged in advertising, public relations and marketing–it's what I know–I'm a good salesman by myself, and that can only help, not many artists are salesmen, it definitely helps."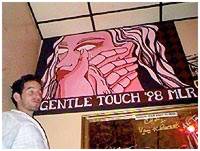 When asked about the status of Orlando as a cultural town, the answer is one that has been echoed time and time again. "It's very hard to be inspired in this town, it's dull, it lacks a lot–it has a decent amount of culture here, compared to the rest of the state–but it's just not enough," he says. "Usually where money is, culture is, it follows–the wealth has a better appreciation for it–the wealth here is different, it's a tourist-type of wealth." Though St. Augustine and Ft. Lauderdale have flourishing art scenes, it's Miami that attracts Rosen's attention. "Miami is a different scene, that's where you have the celebrity wealth, rock stars, fashion designers, it's a very well-rounded community." But Orlando is sputtering to life, the cost of living here isn't nearly like any of the other cultural bergs– though life is still tough–it's easy to dream that the ticket to Fameland could be bought right here in the middle of the peninsula. In the tradition of putting a face on the art, a personality to match with the images–Matthew Lee Rosen is a sure candidate for the coffee table book of our times in The City Bee-yootiful. He's cocky, naturally talented and sincere in his pursuits. His love for the art precedes all else, however–and his dedication to creating living messages that endure is nothing short of all-consuming.
"The whole thing is, I want to produce a powerful image that everyone is going to like." He thinks and pauses for a moment. "I take that back, I understand everyone is not gonna like it, but everyone will remember it–and that's my goal–I want everyone to remember it, you know? I want books written about me, I want it all–who doesn't?"
---