Jeff Beck
The Tabernacle, Atlanta, GA • March 5, 2001
James Mann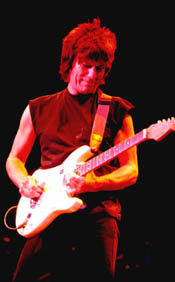 It is one of my serious regrets that I was unfortunately born years too late. If I had been a youth in the '40s and '50s, I would have camped out in New York City and seen Charlie Parker, Miles, and the rest create Bebop. But alas, that was not to be. Although I did get to see Miles in his later, shiny jumpsuit period (on a show with Sun Ra!), it wasn't the same Miles that created new musical forms at the drop of a hat. To be able to see someone who is a master at their instrument, ala Parker, Coltrane, or Miles has been a fervent desire that I had long accepted as being unreachable.
Until I saw Jeff Beck.
If anyone on this planet is doing ANYTHING as well as Jeff Beck is playing guitar, I wanna watch them. Because for 90 minutes, Beck literally reshaped the way a guitar is perceived. His last two releases, this year's You Had It Coming and 1999's Who Else! have featured Beck atop an electronica setting, a genre that generally leaves me cold, but in his hands, bristles with energy and passion. Opening with the lead cut from his current release, the aptly named "Earthquake," within an instant Jeff caused the jaws of the guitarists in the crowd to drop, simply by playing what those of us who had listened to the album had assumed was a keyboard part. Nope, it was guitar. The evening continued in such a manner, with every song allowing Beck and his crème Strat to make a musical statement so precise and electrifying that after a few songs, all you could do was grin a stupid grin at the sheer skill he possesses.
His sound was impeccable, tone flawless. In much the same way certain periods of Miles Davis' recordings are identified by the use of a mute, Jeff Beck can be similarly denoted by his use of the vibrato arm of his guitar. Slight touches caused notes to shimmer in the air, slipping backwards and forwards over the beat, hovering in pure space. Other times he used the device to dive bomb up and down the fretboard, sounding like a perfectly scripted carcrash. Seriously, no one does this better.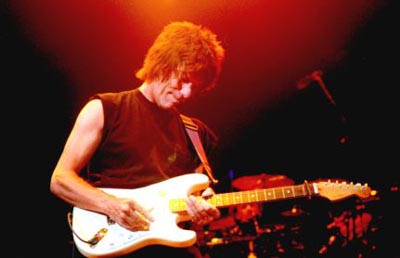 Performing the bulk of his new record, along with selections from "Who Else!", Beck was assisted by drummer Andy Gangadeen, bassist Randy Hope Taylor, and guitarist extraordinaire Jennifer Batten (formerly with Michael Jackson, of all damn people) to recreate the techno sounds – without a keyboard player (Batten instead performing the parts via a MIDI guitar setup). But it was the quieter moments, such as "Brush With The Blues" where Beck's incredible phrasing and lyrical ideas shone. His version of the Beatles' "A Day In The Life", which he recorded for a George Martin tribute record, was intensely moving. With only Batten onstage along side him, he hunched over and brought the song to life anew, sounding for a brief moment like Lennon himself. Beck does with this song what Charlie Parker did with "Cherokee" – take the song to its roots, redefine it, and make it his own.
By the time he closed the show with "What Mama Said," which featured furious banjo-style picking that was simply unbelievable, the crowd was in his pocket, knowing they had witnessed something singular and not likely to bested anytime soon. There are guitarists, and then there is Jeff Beck. He has no equal. ◼
---