Access 2 Amsterdam: Day 3
by Bob Pomeroy
Access 2 Amsterdam: Overload
By the third day in Amsterdam I was beginning to reach overload. I was trying to take in as much of the A2A conference as possible. At the same time, I was trying to do tourist type things like visiting museums, shopping and wandering along canals. By Friday, my hectic pace was beginning to catch up with me. I was reaching the point of sensory overload!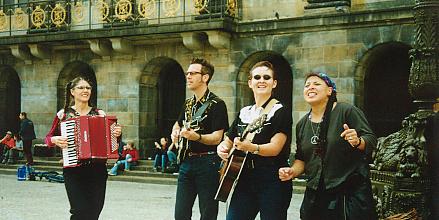 Early on Friday afternoon, I was out playing tourist when I happened
upon a bluegrass band busking on Dam Square. They were good, so I stopped to watch. It turned out that it was the American group, Jo Miller & Her Burley Roughnecks. They had played a showcase gig at the Maloe Melo on Wednesday night and were still in town taking their music to the streets. After a bit, I noticed Laura Love hanging out in the crowd. It turns out that Jo Miller and Laura Love are old friends. Laura joined Miller's band for a few numbers, then quite literally passed the hat through the crowd for spare change. I would have stayed longer, but there was a forum at the American Hotel that I wanted to catch.
Hitting the official cocktail party definitely helped derail my plans for the evening. As you might suspect, the cocktail party is the place to meet and greet industry people and load up on free drinks. Jo Miller was over in one corner playing for the people. I caught up with an old friend from St. Louis and met the infamous Ariel, of Ariel Publicity. We've been talking on the phone for years, but this is the first time we'd actually met.
The cocktail party was fun, but I left too late to make it to the
Bimhuis to see Russian jazz singer, Marynka Nicolai. Instead of rushing across town, I checked out the bands playing around Leidsplein again. I'm not sure if it was general exhaustion, random chance or just extremely good luck on previous nights, but I wasn't as impressed with Fridays offerings.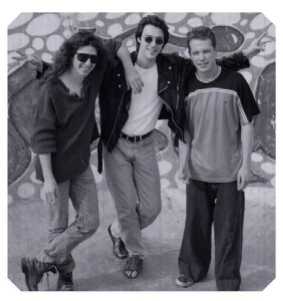 I stopped in at Amuse for a set by Mr. Vein. This band came all the way from White Horse, Yukon Territory to be a part of A2A. I have to admire the initiative of this band and fellow Yukon rockers Say No More for making the journey. I've been through White Horse and was amazed that bands from such a remote and isolated spot would be shooting for international recognition. Mr. Vein's sound was a curious blend of Elvis Costello styled pop songs with Eddie Van Halen guitar licks.
Moving across the street to the Melkweg, I caught a set by Home Groan. Watching this one-man band, I was convinced that this guy was another running mate of anti-folk mainstay Roger Manning. He traded off between acoustic guitar strumming and picking an electric mandolin. It was a pretty good set that didn't stray too far from traditional folk fare. The biggest surprise to me came when I checked the program and learned that Home Groan is from Norway.
"the twigs"
Over at the Big Fish Little Fish showcase sponsored by the Chicago
based Sweet Pickle label, I caught a set by the Twigs. The Twigs are an LA-based band fronted by identical twin sisters. I knew something was up when the only people to take the stage were one of the guitar playing sisters and a bass player. I don't know if it was scheduling conflicts or 9-11 jitters that kept the rest of the band away from the showcase, but the Twigs showed some ingenuity in adapting their set. Singer Laura Good played with rhythm tracks loaded onto a powerbook. The powerbook programming was manipulated live by one of the guys from the Women in Rock organization. For songs that depended on harmony vocals, showcase organizer Antje filled in. It's hard to say what the Twigs really sound like under normal circumstances. They did a good job of adapting to a unique situation.
I saw a few other acts at the Melkweg that really didn't inspire me at all. I caught the tram down to the Akhnaton to try to catch the end of the Ska, Reggae showcase, but it was over by the time I got there. So the night ended on an off note. I wandered my way back to my hotel wondering what the final day of A2A would bring.
http://www.geocities.com/mr_vein_2000/
---