Independent Women
by Bob Pomeroy
Being an eclectic music writer, I'm never sure what's going to show up in my mailbox. Sure, I get the usual assortment of bills, bulk mail solicitations and credit card offers, but I also get CDs from people I've never heard of. Lately, I've been getting fewer discs from record labels and more releases from people putting out their own releases. These are folks who have labored over their projects and are now sending them off into the world. Will the critics coo like Paula Abdul or glower like Simon Cowell?
In this column, I'm rounding up some releases by Independent Women. That's about all these discs have in common. They cover quite a bit of sonic turf and geography. The other things these disc have in common is that I liked them. I'll do my mean Mr. Cowell impression another time. Let's check out the music.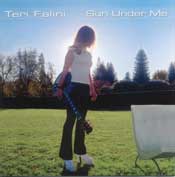 Career Change
What makes a Harvard educated lawyer pick up a guitar and start singing slashing rock invective? How about having the suburban American Dream swirl down the drain in a haze of prescription drugs? Teri Falini had the successful suburban lifer, but it turned into a nightmare suitable for Desperate Housewives when her husband became addicted to the pharmaceuticals he peddled to doctors. Teri picked up a guitar and started writing songs to work through the pain of a marriage gone to hell. The sound that Teri channeled is passionate, muscular rock along the lines of P.J. Harvey and maybe early Hole.
Listening to Sun Under Me is like walking through the burning wreckage of Falini's life. Disillusionment and anger boil over on tracks like "Cinderella" and "the Good Life." These songs rail at the hypocrisy of a former life. "Mental Health" and "Broken Man" rail at the man who shattered her illusions of a happy home. These are songs that most of us can relate to. We've all either been in or witnessed relationships that ended like a car wreck. Things get uncomfortable when Teri unflinchingly shows us her mental and physical scars. I have trouble listening to "Cut" without wanting to somehow confiscate the blade. Sun Under Me is a startling debut recording. It could be the catharsis that launches a career.
Teri Falini: http://www.terifalini.com
Beyond the Glass
Tiff Jimber's day gig is working the knobs in LA area recording studios. She's worked behind the glass with people like Phil Collins and the Foo Fighters, but she's not one to be confined in the control room. Jimber steps out front of the glass with Obstacles, a collection of piano-driven pop songs. It's tempting to toss off meaningless references to Tori Amos and Fiona Apple just because they're also piano playing women. Callers to my radio show have remarked that Jimbers sounds like a classic '60s soul diva.That sort of "sounds like" comparison can only take you so far and doesn't do justice to Jimber's work. Jimber achieves a timeless sound by focusing on presenting her songs as cleanly and economically as possible. She makes every note count so that her songs soar like brightly colored kites on a breezy spring day. I'm particularly fond of "You Were Always There" and "Amanda." The one questionable track on the disc is "Backwards," on which the tapes are mainly played backwards. This track strikes me as being self-indulgent, but it doesn't detract from the overall high quality of this disc.
Tiff Jimber: http://www.tiffjimber.com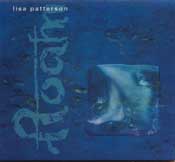 Global Reach
Everyone has heard the saying, "think globally, act locally." Canadian singer Lisa Patterson's latest CD, Roam, is infused with that kind of thinking. Patterson's songs are focused on personal concerns like romance, life, death and how it all fits together. While the songs' subjects are largely personal, the sonic palette used has global reach. This is a pop album informed by chamber music, jazz, and ethnic music ranging from East Indian to Klezmer. On "Need Each Other," Lisa collaborates with Indian vocalist Bonnie Chakraborty. This track was put together in studios in Toronto and India.
Roam is book-ended by two meditative numbers. The opening track, "Roaming," is about learning to trust your instincts and sets up the musical journey we're about to embark on. Along the way, we embrace life ("Say It Out Loud"), struggle with indecision ("Surrender or Fight"), face mortality ("Say Goodbye") and introspection ("Still Within Activity"). At the end of this journey, we find a meditation on the unity of the human family. "And the Stars Keep on Shining," features a simple mantra-like vocal intercut with samples of Noam Chomsky and CBC radio host, Bob MacDonald.
A final global quirk to the Roam story concerns the disc's distribution. Patterson approached several distributors to handle her disc and was picked up in Canada and the Benelux countries. Music finds its audience, sometimes in unlikely places.
Lisa Patterson: http://www.imaginitmusic.com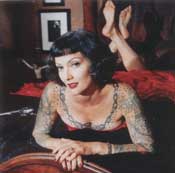 High Desert Torch Songs
When I travel, I stop in at indie record stores and ask for recommendations on local artists. Most often, the clerks point out the local version of the Killers, or whatever the current variety of buzz is. When I was in New Mexico recently, I got pointed to the Shins a lot, but the one person everyone agreed I should check out was Bernadette Seacrest. What makes this unanimous recommendation unusual is that Seacrest is a lounge singer more in the tradition of Billie Holiday than P.J. Harvey.
The Santa Fe Reporter described Seacrest's weekly gig at the Swig saying, "Stylish, tattoo-laden torch singer Bernadette Seacrest could be dressed in business casual for all we care. After all, she possesses one of those rare voices that summons up romantic demons, lost loves and well-made cocktails." Her debut CD, No More Music by the Suckers, is a sultry, simmering set of original tunes and jazz standards. The Yes Men lay down a spare backing that consists of little more than a rhythm section with horns providing accents. This leaves plenty of room for Bernadette to cast her vocal spell. She effortlessly makes classics like "Strange Fruit" her own while originals like "Cold in My Bed" and "Her Tears Break My Heart" sound ageless.
I missed Bernadette's performance in Santa Fe, but at least I picked up the CD. The record store geeks up and down Interstate 25 were right. This is a disc worth checking out.
Bermadette Seacrest: http://thrillbomb.com
• •
Being independent musicians, you may not be able to find these discs at your local CD retailer. If you're interested in these musicians, click their links and visit their websites. You can probably do some shopping there, if you're so inclined.