Evan and Jaron
Twin Vision
Andrew Ellis
Jaron Lowenstein knows all about the uncertainty of a career in the music industry. So you'd have thought he would have thought twice about considering a move into the equally hazardous acting profession. Evan and Jaron – the duo Jaron forms part of with twin brother Evan – have had a topsy-turvy career releasing a couple of independent albums and two records on Island Records and most recently, Columbia. A recently well-received independently-issued EP, Half Dozen has reinvigorated Evan and Jaron's career in the music industry, but Jaron now has one eye on a new challenge, starring in the comedy Lucky 13.
• •
I love the new EP, Half Dozen. Are you pleased with how it has been received by fans and the industry?
The reviews have all been pretty consistent. We went back to our roots a little more on this and the Americana sound has been praised by our listeners. Like all releases, I wish more people heard it, but perhaps in time.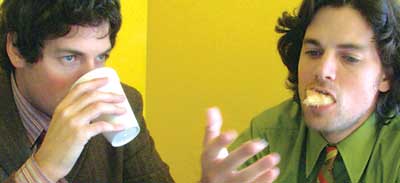 I have read that the EP is the first half on the unreleased follow up to your follow up to Evan and Jaron. Is there going to be a Half Dozen II?
There may not be a Half Dozen II, but the songs that are in the can will definitely be released on a subsequent recording. We may abort the EP concept and add more new songs to the existing unreleased bunch and release an LP. Still up in the air.
You worked with Dan Huff on the record. How was it to work with him?
His talent speaks for itself so I'll tell you what you might not know. He's the most wonderful guy to be around. He's always patient – which is crucial for a producer – and he's always passionate. He shows up on time and gives it 100% until it's time to go home and then more often than not he takes some tracks home with him and works on them throughout the night. He has a great sense of humor, as well.
You've released the EP independently. I'm astonished no-one has picked it up, but what happened with your relationship with Columbia?
We have had a few offers from majors to re-release it or to distribute it in its current state, but they were deals we've seen before and those just didn't interest us anymore. The music business is going through some tumultuous times right now and we feel that for us to be able to own our own masters is a pretty huge blessing.
Which song/songs is your favourite on the EP?
"Standing in the Middle," a song that Evan wrote I think sums up the record in both its theme and sound. I love "Through the Blue" as well. It's a very personal song to me and I had to really twist some arms to get it recorded. I never thought anyone would go for it being on the record, but I had to record it. It ended up on the record.
I think "Fly Away" is the highlight. You seem to have a great writing partnership with Danny Wilde. How did you two hook up to do some writing?
Thank you. I love that song too. Pure pop at its best. I met Danny through John Fields, a producer that we have both worked with. He set us up and we totally clicked. I have been a fan of his for almost 15 years. So not only was I getting to write great songs with him, I was getting to hang out with someone whose work I so much admired.
You have worked with other co-writers – Jeff Cohen, Glen Ballard to name but two. Does writing with others keep your songwriting fresh?
I prefer to write alone. Most songs I write alone. I do enjoy the process of co-writing, but have always been bothered by having two or more people write lyrics. For a pop song, that's fine. But for more personal material, how do you ask someone else to help you say what you need to say? That's the thing. People want to hear me say it, or you say it, they don't want to hear what we both have to say at the same time. It's supposed to be intimate. The audience should feel as though you're singing this to them or sharing this with them one on one. If it comes from the heart it will end up in someone else heart.
How come you and Evan haven't co-written any of the new material?
We stopped co-writing about 6 years ago. The Columbia release listed us as co-writers on a handful of songs, however, we didn't co-write any them. The name that appeared first was the song's author. We just chose to list it that way. As our lives have taken divergent paths we have more individualized views and in order to keep them from being homogenized we write separately.
Of course, you are major label veterans after releasing We've Never Heard Of You Either on Island. Do you intend to release any more music on a major, or are you surprised at how much you can achieve being an indie?
When we signed with Island I thought that was the label I would have a long career with. Two years later that proved to be untrue. When the Columbia deal fizzled out after 4 years, well, they were not going to be our home either. Releasing a record independently has its advantages and disadvantages. We've done it both ways and I can't say we would never sign another major label deal, but why should we?
After the success of "Crazy For This Girl," it seemed a follow-up single would be a given. Are you frustrated you never got the chance to do that?
We did get a follow-up. In fact we got two. "From My Head to My Heart" and "The Distance," both of which were top 40 hits. The problem for us was that company was very divided on our second single and only those that chose it championed it. Politics! By the time the third one came out the record was flailing.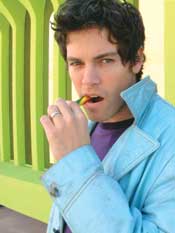 Was there ever a point when you considered getting a 9-5 job instead of dealing with record company politics?
9-5? Never. But other jobs, yes. There is art and creativity in many jobs in addition to being an "artist." Lately, I have been spending a lot of time on acting. I finished my movie and am getting ready to do another. We also are working on a TV show for this year. The reality is, I love playing music more than anything else in the word, but I may have to take on other vocations in order to fund and/or expose my music.
Any plans to write songs and produce for other artists in the near future?
Writing, yes. Producing, no. I doubt it. Evan would love to. I don't have his patience. You hear songwriters say, "I wrote this song, but it's so not me" or "I could never sing this or that" – not me. I never write something that isn't me or something I'm not compelled to write. So if another artist relates to something that came from me, then I would be more than happy to have them give it a go. But I can't sit down and say "Tell me about you so that I may write your feelings."
Tunes like "What She Likes" have great crossover potential. Have you considered letting a country artist cover this track?
Certainly.
Tell me about your typical songwriting process. How does an idea go from being just that to being a fully-fledged song in your creative process?
I rarely sit down and set out to write. I'm drawn to an instrument because of a situation that has occurred – usually, one that's less favourable. Every time I complete a song I fear it may be last. I have no idea how to write and every song forges its own path. There is no formula. I tend to create songs from a journalistic standpoint. By that I mean, I merely take notes and capture the reality that surrounds me. Rarely is something forced or imagined and when it is, it tends to come of a bit transparent. I'm not knocking that method it just doesn't work for me.
Would you ever consider releasing any music without Evan?
Yes, but never without his blessing. We are partners, best friends, and brothers first. But like I said earlier we have experienced different things and have different perspectives on life now. So the same way I may not want to be represented through all his views, he may not want to be with some of mine. We agree on many things and may contrast a lot on the records we put out together, but the record I do alone will more than likely weigh heavily on the songs that he hasn't experienced or contains themes he doesn't wish to endorse.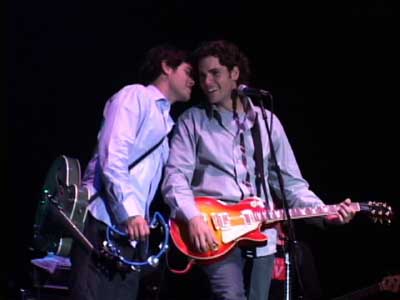 Tell me about your musical upbringing, and how you and Evan decided to become singers and songwriters.
Family was always into music. We grew up loving music as well. Had a vast knowledge of music through our parents and sibling's diverse tastes. Evan and I were three weeks away from commencing college when Evan approached me and convinced me to take a semester off and start a band. It's been a pretty long semester.
Has your connection and musical relationship become stronger over the years?
Absolutely. We've become more understanding of one another off stage and embraced our differences on stage. It took us about 10 years, but we have now found our own voices and it's so much more fun to play now that we really know who we are.
Have you been touring in support of Half Dozen?
We toured for two months to promote the record's release and have been too busy with other pursuits recently to get back out on the road. We intend to do some more touring this year, though.
I notice you have released the EP on iTunes. Is this a technological development you believe in, after the problems artists had with unofficial download sites like Napster in the past?
I think iTunes is a band-aid of sorts and still needs improvement. I think the songs should be cheaper still with more revenue going to the artists. The artists make almost nothing on iTunes. Far less than the already pithy amounts they are doled out from record sales. I think file sharing is here to stay whether you agree with it or not, so quit bitching and get on the right side of history. We're at the stage in the game where we just need to figure out the best way to monetize it. I like the fact that I can access almost any song I want in mere minutes. That's a great thing. Figure out a fair way to bill more for that luxury and we'll all be back in business.
I hear you are also doing some acting on the side. What kind of projects are you involved in and how did you get into it?
I shot a movie last summer called Lucky 13, and fell in love with it. I was asked to take the role as a favor to someone and just had so much fun doing it. I'm gearing up to shoot my second one this fall. Then perhaps some TV. I'll take the work I can get.
Do you ever see a day when the music takes a back seat to the acting?
Emotionally never. Financially, perhaps.
Finally, what are your plans for the rest of the year?
Keep breathing. Slowly.
Evan and Jaron: http://www.evanandjaron.com ◼
---