Bewitched
directed by Nora Ephron
starring Will Ferrell, Nicole Kidman, Michael Caine, Shirley Maclaine, Jason Schwartzman
Columbia
One of this summer's most anticipated comedies – a remake of that classic 60s TV staple, Bewitched – has all the ingredients of a very potent spell. This homage to the late Elizabeth Montgomery has star power, courtesy of Will Ferrell, Nicole Kidman, Shirley MacLaine and Michael Caine; the wonderfully gifted Nora Ephron is at the director's helm; and the film has a pretty novel concept for a plot: a studio attempting to recreate Bewitched for 21st century television, while dealing with an incredibly egotistic actor and a very unexpected wild card.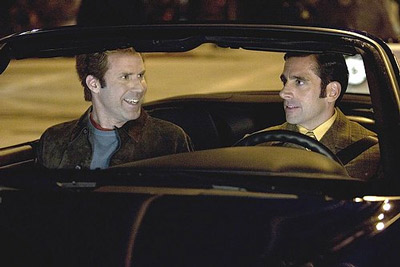 Ferrell plays Jack Wyatt, an insecure film star on the slippery slope to "C-List" status. When he's approached to co-star as Darren in the new TV show, the desperate actor jumps at the chance to redeem himself . However, when prodded by his cutthroat agent/amoral supporter Richie (Rushmore's Jason Schwartzman), he insists upon top billing and a focus-reversal – the witch will be a sidekick! The search commences for a Samantha, a cute unknown with a perfect, twitching nose… and someone naive enough for Jack's on-and-off-screen domination.
He soon stumbles across the lovely Isabel Bigelow, who has arrived in the Valley from some unknown, mystical witch-land determined to make it on her own among mortals without the use of witchcraft. She finds this feat to be a bit more difficult than she had imagined; her plan is further hindered by her disapproving playboy/warlock dad, Nigel (Caine, who's been making quite a second career out of scene-stealing, fatherly supporting roles).
Bewildered Isabel soon goes from struggling with mundane human tasks such as VCR programming and housecleaning to acting as a witch in a show based on a program her father never allowed her to watch.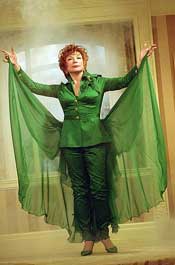 While the chuckle-prodding irony continues, Isabel finds an enigmatic mentor in legendary stage has-been Iris Smythson (legendary screen has-been Shirley MacLaine) who has been tapped to play Endora.
After her lines are cut down to almost nil to make room for Jack's camera-mugging, Isabel finally gets wise to the game, and with the encouragement of her new gal-pals Nina and Maria (Heather Burns and Kristin Chenoweth) – and some help from Aunt Clara (Carole Shelley) – she concocts some sweet revenge. More chuckles ensue, along with the inevitable romance.
If this sounds like a good movie, it's because it is – but there's a hitch in this new Bewitched, something that is somewhat difficult to put one's finger on. For one thing, Bewitched is funny, but not hilarious; it's as if someone or something put the handcuffs on co-writer/co-producer Ephron, who many would agree is a comedic genius. Another comedic tour de force, Mr. Ferrell, is not his over-the-top self as Jack Wyatt; perhaps letting loose with this character would result in a rehash of Anchorman's Ron Burgundy. That speculation underscores the idea that Ferrell could cut down his workload. Word has it that he's scheduled for a slew of films in the next two years, which would bring the SNL great dangerously close to a Stiller-like level of overexposure.
Another let-down is the normally extraordinary Kidman, whose baffling, breathy third-rate Marilyn Monroe imitation gets downright annoying about halfway through the flick.
Caine and MacLaine, of course, steal the show with a chemistry that Kidman and Ferrell sorely lack; Steve Carell's brief-but-memorable appearance as Uncle Arthur livens up the movie's predictable climax.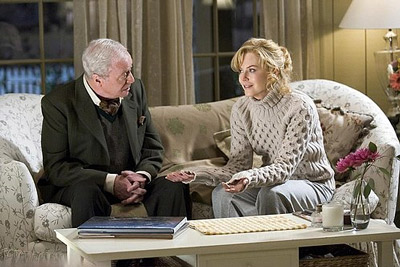 Maybe Bewitched is just another could-have-been movie that started out with a superb, edgy script, and somehow was reduced enough to appeal to the lowest common denominator. Maybe Ms. Ephron pissed off the wrong studio exec. Who knows, and who really cares – Bewitched is hardly a disaster. Someone who wasn't a fan of the original (which took some wicked jabs at nuclear-age suburbia) and wasn't particularly looking forward to this movie won't be disappointed. But if one had any hopes or expectations of greatness for Bewitched, sitting through it will be like craving top sirloin and having to settle for Swanson's salisbury.
Palatable, but hardly worthy of seconds.
Bewitched: http://sony.com/bewitched