Bloc Party
Atlanta, GA • June 11, 2005
Jen Cray
By 4pm, after Louis XIV's set, the crowd had doubled out across the wet expanse of concrete in front of the Miller Lite/99X Stage (the "alternative" nook of of the Music Midtown Festival) in anticipation of seeing buzz band of the moment, Bloc Party. All the way over from the UK, this band has been repeatedly compared to The Killers, Franz Ferdinand (who helped them get noticed early on), Gang of Four, and Blur. Now that those influences have been noted, we can move right along to the performance.

A drizzling rain fell from the sky as the four young London boys walked onto the stage and greeted the wet Atlanta audience. The grey mood of the weather enhanced the dreamy indie pop that the band created. A style borrowed greatly from '80s icons Echo and the Bunnymen and The Cure, this brand of upbeat yet downtrodden music mingled with the smells of funnel cake and pork to embrazen itself in the minds of everyone in attendance. Suddenly the songs off of their debut album Silent Alarm seemed to click into place. A record that had before sort of rolled right off my ears began to sink in.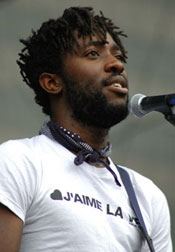 Lead singer/guitarist Kele Okereke is clearly the oil that makes this machine of a band run. He's the charisma and the voice, he's the pretty face that keeps you captivated. Whether he's leading the crowd in a clap-along on "She's Hearing Voices," or quietly seducing the masses with "This Modern Love" – Okereke is the focal point of the band.
While most were busy watching Okereke gaze his big brown eyes upwards, or pound away on his Telecaster, I found myself drawn to the rhythm of the drums. Matt Tong, tucked way in the back almost out of the line of sight from where I stood, yanked the beats from his drumkit in a wickedly primal way. If Okereke was the oil, then Tong was the actual engine – for he was the backbone of the band's sound. Without him Bloc Party would teeter on the edge of "ehhh," because really the music they make is not that special. They've got some catchy hooks and common chord progressions, but the element that elevates them is the solid drumming of Matt Tong.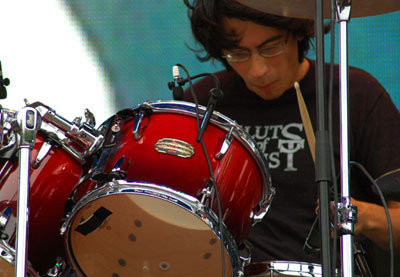 After 45 minutes the crowd has melted in the hands of Bloc Party. Me? I enjoyed their set, but I'm still not fully convinced that they can possibly live up to the hype that has preceded them. Still… I would see them again.
Bloc Party: http://www.blocparty.com ◼
---