Alex Woodard
From Finance To F# : How Alex Woodard Swapped Math For Music
Andrew Ellis
Ever feel like ditching the suit and tie and kissing a life of corporate drudgery goodbye to follow a dream? Well, that's exactly what singer-songwriter Alex Woodard did in the mid-1990s when he sacrificed a career in Boston's finance industry to become a full-time musician, and after the release of his third solo studio album Mile High, it's clear he hasn't looked back since a chance meeting with a stranger determined his fate.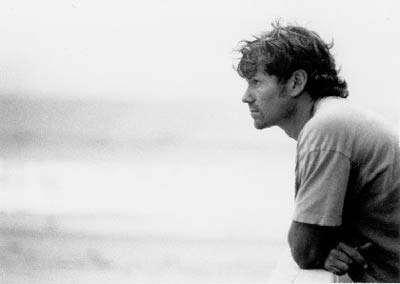 "It was someone I met at a party," Alex explains. "She was years older than me, but she saw something in me that no one else ever had. I was living in Boston and was home in California for Christmas. I hadn't picked up a guitar in six months, and there was one sitting in the corner at this party, and I started playing and singing to myself. She said to me, "Why aren't you doing this?" One thing led to another, and that was the genesis of this part of my life."
It led to the affable California native moving back across country to immerse himself in the burgeoning Seattle music scene and work with like-minded musicians from the likes of Jackopierce, Gigolo Aunts and the Posies. But Woodard's musical vision from those early days is perhaps best realized on Mile High, his recent self-released collaboration with Pete Droge.
"I had been a fan of Pete's ever since I moved to Seattle," Alex admits. "I met him at one of my shows, and we kept in touch. By the time I was ready to do Mile High, I was already living in California again and he was on the road with The Thorns. I mentioned it to him, and he said, "Why don't I produce it?" So I started sending demos to hotel rooms wherever The Thorns were in Europe, and that's how it started."
Mile High is a more organic record than its more polished and electrified predecessors (Woodard's debut from 2000 Nowhere Near Here and the excellent Saturn Returns from 2002), with the gentle acoustic pop of "Mile High" and the upbeat "Steps" and "Blood, Salt and Silver" mixing effortlessly with achingly beautiful ballads such as "Voice On The Wire" and "Invitation." The diversity and quality continues with the laid-back, soulful stylings of "Breathing", and the relaxed environment in which the album was recorded seems to have contributed to its atmosphere.
"It's funny, I looked at this record as kind of a "living room" recording," Alex agrees. "Pete and I did the whole album in his house, in-between drinking coffee and playing with my dog, so my expectations weren't really that high as far as it being a reaction record. Making an organic record was something Pete and I talked about a lot, and it was definitely a recurring mile-marker as we made our way."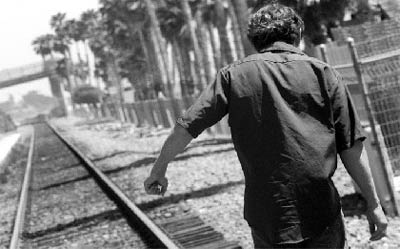 'I think Pete had a very definite vision about what he wanted this record to be, and he brought that to the table," he continues. "He's a great singer/songwriter, and I listened to his thoughts with great intent. Not to mention that he's a great player, so that presence is really felt on the record too."
Woodard's rootsy voice has, in the past, drawn easy comparisons with the likes of Bruce Springsteen and Tom Petty, and it's on Mile High that such parallels are most clearly evident. While he remains modest in the face of such high praise, he admits he is inspired by the authenticity such greats possess.
"Well, for folks to even mention my name in the same sentence as those guys is so kind," he says coyly. "Guys like Springsteen and Petty are heroes of mine. I think the comparison stems from a common approach to songwriting and singing. I mean, they don't have the prettiest voices in the world, and neither do I, but when they sing, it sounds like they mean it. It's authentic and that kind of everyman vibe can really resonate deep."
And typically, Woodard has drawn from authentic personal experience for inspiration for the songs on Mile High.
"I'm most proud of "Invitation"," he tells me. "That's a song I wrote about my grandmother, as an invitation to heaven, or whatever you call yours. She is still with us, but sometimes it's as if she is standing at the gate ready to go in. I captured true to myself what I was feeling about the situation, and to me, that is what a good song does."
"I also am proud of "Voice on the Wire", because of its simplicity in the moment. That is most people's favorite song off the record, and I think it's because it captures this certain moment that most of us have been in at some point."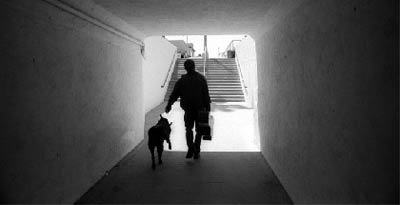 That heartfelt simplicity is also captured on a recently-recorded song Woodard wrote as a reaction to the devastating events in the aftermath of Hurricane Katrina, a contribution that demonstrated the innate benefits of being an indie musician in 2005.
"I wrote a song called "Flooded", recorded it in my living room, posted it on the website a few minutes later, and people were on it. Soon, music directors in the gulf were picking it up off the website. It shows how the Internet has birthed a wide-open field for artists like me; if you want to get your music out there, you can."
Proceeds from the song and a couple of benefit shows raised $20,000 for victims of Katrina, and, watching helplessly on TV from the other side of the country, Woodard felt duty-bound to do something to help.
"Music in itself is so healing, and to bring people together with music for a cause bigger than ourselves, well, that's what it's all about," he says emphatically. "If I could do that every night, I would. I ain't much of a political beast, so I stay away from telling people what to think, but I do think there are a lot of folks out there that need help, and that benefit show with Nickel Creek and me was one small way to do it."
Being able to make a difference in this way is just one reason why trading the corporate grind for a simpler existence as a singer-songwriter was the right decision for Woodard. With three appearances at acclaimed industry showcase SXSW under his belt, he is ambitious and committed to making good music, but his outlook is grounded: he realizes that a major label deal is not the be-all and end-all for an artist these days.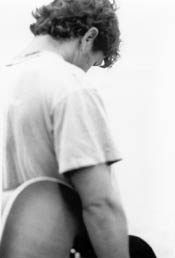 "When I started doing this years ago, it was all about getting that major label deal," he reminisces. "I never got one, but that was a blessing in disguise, because it forced me to really develop myself as a songwriter and performer. And that has made a world of difference. At this point, I don't care about having a deal at all, and that's usually when they come calling."
When he's not touring in support of his music, Woodard spends a lot of his time at his home near the beach just north of San Diego writing with like-minded artists such as Cary Pierce, surfing, or playing with his beloved Labrador dogs Kona and Stella. He's the first to admit his music has allowed him to live a more idyllic life than he would have been able to in the hustle and bustle of the financial districts of Boston or LA, and even though it's not always a bed of roses, he certainly has no regrets about his radical career switch.
"You are right, I have worked to build a good life," he affirms. "But the toughest part of this business is everything everyone doesn't see, especially as an independent musician. Sometimes the places everyone goes are the loneliest, and the road can be very long. So I try to balance out the work with the things that make me happy – my dogs, surfing, music, family, and service. That's where the life is, in the balance."
Alex Woodard: http://www.alexwoodard.com