Mad Confessor
Troy Lukkarila
…tweaks your sensibilities
by Shelton Hull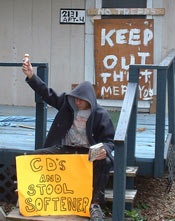 The cover of Troy Lukkarila's newest CD, Unsafe Structure, feature pictures of the luminous Alan Justiss standing on the porch of his old residence on College Street, which caught fire last year and destroyed everything but the man himself. It remains in its final state, legally and certifiably unsafe. But the title is a double-entendre, because what Lukkarila presents as the unsafe structure in the work is his own mind.
Even his street team was a little worried at last month's CD release party at 9th and Main . "I always knew he was warped, but…" said Kristen, the gal at the gimmick table. The show began at the door, with attendees given a nametag. Every one said "Jimmy," and that was everyone's name. Attendees were also given false teeth and gaudy neckties. The show ended with a mock mass suicide. In between could be seen the full range of his abilities as an artist and critical thinker. Of course, it's not possible to release the full potential without a complicated assembly of mirrors, diamonds and orgone accumulators; the price of that may be prohibitive, but still a lot of show for the money. Lust, avarice, bloodletting and the glory of empire.
Lukkarila was born a Navy boy in Virginia. He moved here as a youth, and his musical fixation dates back to high school. "Ol' T-Roy here never wanted to be a guitar player, never set out to be one, but I had a lot of people wanting to be in a band who weren't lifting their finger to learn any instrument at all, so I decided I should at least learn a little bit of guitar," he says. "But I never got any good." In his hands the axe is wielded like Freddie Green on a ginseng binge.
The album, his third after Every Day is Garbage Day and Don't Sit on Tables, is a product of his own Lukalips Destruction Company. Its wrecking ball logo turns up all over his output. Unsafe Structure features contributions from bassist/engineer Roy Peak, whose studio, Radical Recording, hosted the sessions. The saw stylings of Michelle Krasowski pop up, as does the multitalented Rebecca Zapen and drummer Sean Jones. The singing is handled by Lukkarila and his co-conspirator Tracey Moore; they share a home and a date of birth. Their duets can tickle the tummy and stiffen the spine at once.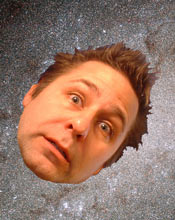 Lukkarila is rightly identified as a local Jacksonville artist, but he maintains a steady following through the magic of cyberspace. His recordings have sold "in every continent, except Antarctica" and his artwork have drawn its share of commissions. "I learned early on that sending stuff out wasn't getting me very far, but the Internet is perfect. Little pods around the world discover it here and there. … I've probably sold as many in Australia as I have in Jacksonville." Samples of his work can be found on the website: audio clips, news items dating back to his boyhood, his image on the cover of Cat Fucker magazine.
Among his visual projects, the flash animations take the most time to do. "The most meticulous thing about it is making the mouth move to match the sound. Perhaps the most infamous piece involves the stalking and decapitation of singer Celine Dion by a crazed fan. "I think the funny thing is that there are so many freak sites devoted to her, and that's why I chose her. There are some searches where the results will really disturb you. Celine Dion is one of them, Tom Cruise is another." And, of course, clowns. Another is "Clay Gone Wild," a claymation-style short that basically takes up where "Girls Gone Wild" left off. It drew some complaints at the show, but not many.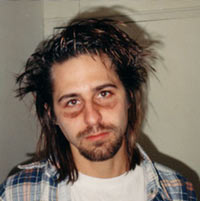 The roughness of his live act contrasts sharply with the smooth production of his albums. It's like he's a professional lunatic. Behind the scenes, though, Troy Lukkarila enjoys the fierce loyalty of his friends in the business, who describe him as sweet and almost entirely harmless. He dabbled in other art forms like sculpture and computer animation, and he is currently renovating a house in Riverside. Is there any difference between one mode of expression and another? "One's a labor of love, the other's just labor," he says, feet up on a balcony covered with potted cacti, content.
Troy Lukkarila: http://www.lukalips.com/ ◼
---