Take Action Tour!
with Matchbook Romance, Silverstein, The Early November, Amber Pacific, Sullivan
Orlando, FL • Mar. 8, 2006
Jen Cray
For its fifth year, the SubCity Records Take Action! Tour is using music to combat the issue of teen suicide. This year's installment is headlined by Matchbook Romance with support by The Early November, Amber Pacific, Sullivan and the band that seems to have drawn the most kiddies out on a school night, Silverstein.
I arrived after Sullivan had played and settled into a beer-induced blur to handle yet another night of feeling like the chaperone at a high school "Battle of the Bands." I'm only about 10 years older than the median age of the crowd, but a decade is a lifetime in music years.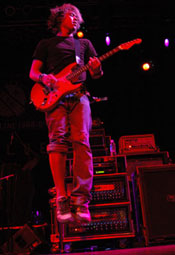 Amber Pacific's got a lot of energy and they coordinate their "spontaneous" jumps into the air. They've got a pretty frontman who gets the crowd's attention, but here's what I couldn't stop staring at – the guitarist had one leg of his jeans rolled up to his knee. Was this a nod to the hiphop fashions of the Nineties? And how can the pant leg not fall down after 20 minutes of bouncing? These are the thoughts that clouded my head until The Early November came on.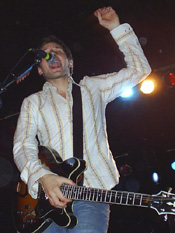 "Forgive us if there are some bad attitudes onstage," began singer/guitarist (and Arrested Development's character George Michael lookalike) Ace Enders. "We've just found out that our record, that was supposed to come out 2 years ago, won't be coming out for a very long time." This was surprising considering that this was the second time I've seen TEN within the past few months and the crowd wass once again giving them headliner-like attention. "We may just have to leak it onto the internet ourselves," Enders continued later in the set.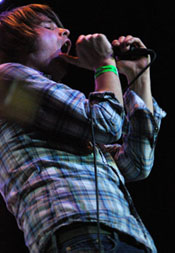 When screamo Canadians Silverstein stormed out, the formerly polite young enthusiasts became a swirling ball of aggression. I saw two fights break out, a bloody nose, a passed-out kid rushed outside by bouncers, and at least three people "escorted" out. It amazes me how the emo shows get more chaotic than the death metal shows where the pit is 50 times as intense. It must be the girl jeans suppressing the boys' blood flow that gets them all worked up.
By the time vocalist Shane Told jumped into the audience at the end of their time, the audience was virtually beating each other down to get a touch of him. "In about 10 minutes we'll be back there [merch table]. Come see us," Told announced before the curtain closes. It is no exaggeration to say that 60% of the once-packed floor in front of the stage turned and ran to the merch table!
So who's the headlining band again?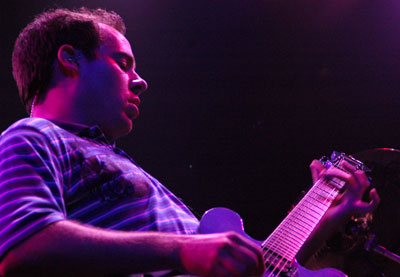 Oh yeah, Matchbook Romance. They finally came on after a couple of reps for the tour, and Sonny of From First to last, explained to the crowd that 10% of every ticket sold goes to the Youthline to help prevent suicide. Ironically, during this speech one rep told an audience member "I'll kill you… this is about anti-suicide, not anti-homicide." Nice.
After all that waiting, Matcbook Romance came out to a stage decorated with candelabras and a backdrop depicting the cover of their latest release, Voices, and opened with a pair of mellow tunes. Danger! Eyelids getting heavy! Here's some advice from a frequent pair of ears in the crowd – do not begin a set with a slow song unless you plan on immediately countattacking with an explosive burst of high energy! Which they did not… Perhaps Matchbook Romance was the strongest band – musically speaking – on the bill, but they failed to grab hold of me and wake me the hell up after that subtle intro.
On my way out the door I ran into Silverstein's Shane Told, who still had a line of girls waiting for autographs (remember: the headliners are onstage and there's still a big crowd back at the merch table). I got a portrait of him, and he asked for my web address to see photos from the night's performance. A nice, approachable guy with an energetic band – and this is why Silverstein has won tonight's Battle of the Bands!
Take Action Tour: http://www.takeactiontour.com/ ◼
---