Q&A with Donkey Lips
Michael Ray Bower
James Greene Jr.
Michael Ray Bower's acting career has run the gamut; he's played everything from a bug-obsessed freak to a concerned environmentalist to a brainwashed cult member in bubble wrap. Millions of individuals, however, shall always remember him as Eddie "Donkey Lips" Gelfen, the tough opposite Danny Cooksey's Budnick on the immensely popular Nickelodeon series Salute Your Shorts. I spoke with Mr. Bower recently about his career, his aspirations, and meeting Ronald Reagan.
• •
You played Donkey Lips on Salute Your Shorts. Were you the show's original choice for that role? I ask because I went to high school with a kid who claimed he was the original Donkey Lips but they fired him for some reason. Any truth to this, or was this guy pulling my leg?
Well, I did the pilot episode and when the show got picked up for a full season, they did audition for all the roles again – I had to audition as well again – but when the cast was made, I was picked again. So he might have been close to getting the role, but no, I am the one and only Donkey Lips.
I see. Here's another unsubstantiated rumor I need you to verify for me: is there really an episode of Salute Your Shorts in which you can see a girl topless through a window somewhere?
Umm, I really can't answer that one. The truth is there were a lot of crew members who played a lot of pranks and hid stuff in the episodes, so you're just going to [have to] wait for the DVD and… continue looking for the girl in red (oops). Also, there is one hidden secret I will reveal – there is a rubber chicken hidden somewhere in every episode and it is viewable. There's a few more things, so keep looking.
You appeared on "The Wonder Years" a few times. At any time while you were on that set, did you hear Jason Hervey saying his lines from Pee Wee's Big Adventure 'Cause it seems like everytime I see him on anything now, he's more than happy to rattle off that whole spiel.
Nope, I'm sorry, I never heard him spill that stuff, but he was a great guy, so I'm sure he's cool with any details.
Nuts. There was a picture of yourself and Ronald Reagan on your myspace profile for a while. How did photo op happen?
Long story short – when I was young I joined a glee-club for school. We made a play that was about African hunger in the '80s, and I was the star and it got really popular and we ended up flying to Washington and performing it in front of Congress and the President. Hence, how I got an agent and become an actor. Thanks, Ronald.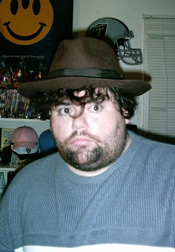 Wow, that's amazing. Leave it to the Gipper. Do you remember the name of the play or what role you played?
The name was "We Are The World, We Are The Children," and my character name was Johnny. The play was about a 10 year-old boy who watches TV and hears the news and then has a nightmare about the hunger situation and decides to start a food drive and soon changes the world. I wish I still had the play just to watch and reminisce.
So did Ronnie praise your acting ability?
Not really. He just took a picture and left. That's Presidents for you.
You've acted along side some of the most beautiful women in the business – Courteney Cox, Jennifer Aniston, and Jessica Alba, to name a few. Is it hard to stay focused when you're standing mere inches away from such gorgeous ladies?
Well, you go into a job knowing their beauty and talent, but at the end of the day, I'm the same as them. We're all performers, so no, it's not hard to stay focused – or else I would lose a job.
Was that bubble wrap outfit you had to wear for Dude, Where's My Car? uncomfortable? It looked rash-inducing from where I was sitting.
Wearing it increased [my] body temp to double – and imagine all the lights and hot outdoor places. I was literally roasted, toasted, and burning to a crisp. Thank goodness for Gatorade.
In The Willies, you had to play opposite all sorts of bugs (flies, spiders, etc). Did that creep you out at all, or do you love all of God's creatures?
Freaked me out. I had maggots all over my body, dead flies in cookies… man, disease central, but I needed the paycheck. Man, what people do for money.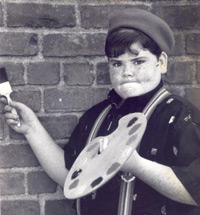 Hey man, we've all been there. Michael Bower, please describe your strangest celebrity encounter.
Steven Spielberg. I was working at a comic book shop in Universal City, and driving home one day, in my left lane pulls up Steven Spielberg (coming from Amblin, I guess), and, well, the red light stopped us right next to each other. I looked out my window and he sort of looked at me for more than the normal and [our] windows were down… so I just looked at him and said, "I'M GONNA WORK WITH YOU SOON! BE READY!" and I just drove off. I looked in my rearview and saw him confused as I drove away. Two years later, I'm in an office as I just booked the role in Evolution (for Dreamworks, his comapny), and he walks in to meet the cast and his first words to me were, "You kept your word." Wow, he remembered.
That's so incredible I almost don't believe it. Ah, you have an honest face. Tell me, Michael, what would be your dream role/project?
I really love sports films and have always wanted to be a cast member in one. I have been really close to a few roles, like Remember the Titans, Friday Night Lights, Varsity Blues – but I'm still tryin'.
Donkey Lips on Myspace: http://www.myspace.com/donkey\_lips