Tsotsi
directed by Gavin Hood
starring Presley Chweneyagae, Terry Pheto, Kenneth Nkosi, Mothusi Magano, Zenzo Ngqobe
Miramax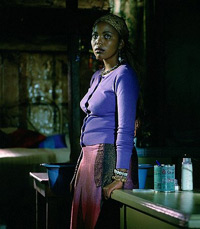 Tsotsi, based on the novel by Athol Fugard, is a deeply upsetting and uplifting film that spans six emotionally transforming days in the life of a tough-as-nails Soweto gang leader and the baby he is unexpectedly forced to care for.
Tsotsi is a hoodlum, on the lam after killing a man on a crowded bus and beating down a repentant gang member in a sweaty, dank and dark Soweto bar. While on the run, he commandeers a car and shoots the female driver. After the carjacking he looks in the back seat and discovers the woman's child in the backseat, thus embroiling him in the most difficult of positions for a gangster.
In order to avoid detection, Tsotsi must look after the child in secrecy. His initial attempts at child-rearing are comical and tragic. Fearful and consumed with panic, Tsotsi forcefully turns to Miriam, a widowed mother to help him with his dilemma. Over the next several days Miriam and Tsotsi form a bond that leads Tsotsi into strangely emotional territory. In the meantime, Sergeant Zuma, a brutally efficient Johannesburg cop who stops at nothing to rid the township of crime and violence becomes obsessively determined to reel Tsotsi in. It is these two conflicts, the conflict with the law and the conflict within him that leads Tsotsi down the difficult road of self-discovery and redemption.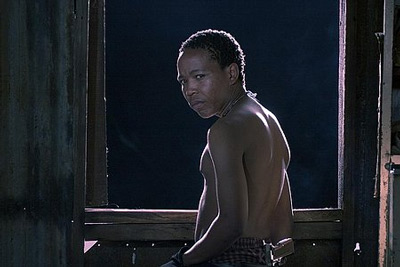 Presley Chweneyagae is astonishing in his breakout performance as Tsotsi. From the outset, Tsotsi is a man filled with rage, dashed hopes and a bleak future, a fact prolifically underscored by Chweneyagae's anguished facial emotions and quiet angry stares. Chweneyagae is the emotional and physical powerhouse that propels the film.
Terry Pheto plays Miriam, the Soweto mother who helps Tsotsi nurture the baby while injecting common sense into his thug life. Because Miriam is one of the catalysts for Tsotsi's redemption, a great deal of the film's emotional resonance lies in the hands of Pheto. Fortunately she does a terrific job and makes her character a diamond that shines beneath the grit of Soweto's rough streets.
However, like any good film, Tsotsi's success lay in the vision of its director. Here, writer/director Gavin Hood has managed to take the realistically grimy and crime-filled ghettos of a post-Apartheid Johannesburg and transform them into townships of hope and salvation. His brilliant direction and tight script made Tsotsi the darling of film festivals everywhere last year.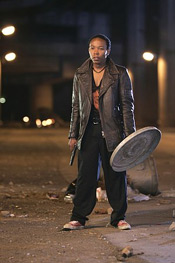 All of this means that Tsotsi, the recent Academy Award winner for best foreign film, is a visually stunning and powerfully gripping triumph of cinema. This simple story of one man's confronting his past, containing his rage and redeeming his soul has resonated with audiences all over the world while helping put South Africa on the map as the new 'hot spot' of world cinema.
Tsotsi Movie: http://www.tsotsimovie.com/