Thomas Dolby
Seattle, WA • April 22, 2006
Steve Stav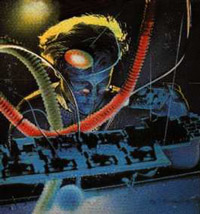 It had all the makings of a disaster – for both Thomas Dolby and his anxious audience. Poor visibility, technical difficulties and competing sound systems threatened to sabotage one of Dolby's first concerts in 16 years, a Saturday night stop at Seattle's Fenix. However, the composer-turned-cell phone entrepreneur quickly overcame his obstacles; whether or not the typical mix of diehard fans and curiousity seekers overcame theirs depended on both good fortune and tolerance for distraction.
To the management's credit, the Fenix has a long history of supporting alternative-music artists, but its tight confines and sight-depriving, quirky architecture often make for a mismatch. It's a great place for the first 150 people or so to catch a show, but later arrivals wind up craning their necks, cramming themselves on the small balcony eight rows deep, or milling around in the expansive lounge areas after giving up hopes of watching the show they paid to see.
Tonight was no exception, as the place was packed.
Shortly after finding the only remaining spot in which to see the stage and small projection screen, Dolby arrived. Resplendent in a heavy trench coat, goggles and 1930s-style radio headset, the Kraftwerk-inspired synth guru strongly resembled a figure from Fritz Lang's Metropolis. Once positioned behind three stacks of synthesizers and other gizmos, Dolby launched into "Flying North," from his groundbreaking debut, 1982's The Golden Age of Wireless. Technical glitches prompted Dolby to abandon his intended follow-up, "One of Our Submarines," after which he asked the audience, "What is that music?"
Bewildered, the keyboardist was hearing over his monitor-headset the overwhelming thump-thump-thump of dance music spilling out of the Fenix Underground, the dance club conveniently located one floor below. Unbelievable.
Dolby gamely ventured forth with an expectedly eclectic set, with cameras mounted around his keyboards – and one on his head – sending images to the screen beside him. This was an out-of-the-blue solo tour for Dolby, whose erratic musical resume is dotted with a handful of albums, lots of hired-gun studio work, and some great one-off collaborations and singles. As there was no new CD to promote, Dolby concentrated primarily on offerings from Wireless and the amazing Flat Earth album – "Europa and the Pirate Twins," "Hyperactive," "She Blinded Me With Science" and a successful second attempt at "Submarines" proved to be highlights of the evening.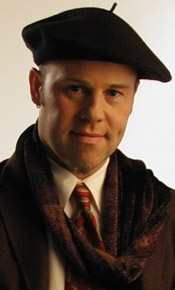 Now pushing 50, the one-time whiz kid seems aware of the elusive, eccentric public persona of his past. Clearly pleased to be back in his element, Dolby talked about his inspirations, etc. at length between songs. While the crowd watched his hands work via the head-cam, Dolby constructed "The Flat Earth," step-by-step, priding himself on the fact that the none of the evening's music was created with the use of back-up tapes. Overall, the tone of his performance was deliberate, intimate, and lacked any of the rinky-dink cheesiness that one might have feared. Replace the banks of electronics with a baby grand, and it could have been an episode of MTV's Unplugged.
While one could have easily imagined some of the more awe-inspiring material (such as "Windpower") blowing out of big speaker stacks on a bigger stage and accompanied by a laser show, this close-quarters introduction to Dolby and his creations proved to be equally appropriate after such a long absence.
I'm sure I would have enjoyed Dolby's cheerful monologues and spot-on synth-work, if I could have heard them clearly. Unfortunately, the background drum-and-bass drone and the arrival of three very drunk and very loud harlots right behind me made it almost impossible to concentrate on anything other than homicide. These hillbilly hags were so obnoxious and so bizarrely out of place, it was if a raging bachelorette party had crashed a piano recital. It was the final straw. Rather than further disfigure the closest one's face with the ball-point pen clenched in my fist, I eventually retreated upstairs to hear the rest of Dolby's remarkable, 90-odd-minute performance in peace; I soon found myself drifting down memory lane.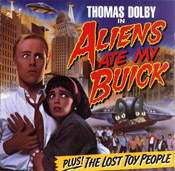 While shopping downtown one chilly December evening many years ago, something loud and bright inside an electronics shop's window caught my eye. I wound up warming myself inside while I watched "Europa and the Pirate Twins" on a big screen TV. I was 15, and it was my first introduction to Thomas Dolby – aside from his radio-swarming, novelty-bordering hit. I thought it was the best thing I'd ever heard, and bought Wireless the next day. So it seemed appropriate that this concert experience concluded by nursing a Coke at an empty bar, listening to the show via a speaker by my head, watching flickering images of Mr. Dolby's face interspersed with slices of his videos and glimpses of his grateful audience. My birthday-celebrating brother was right beside me, which was also karma-like – since he helped me wear out that first Dolby record almost 23 years ago.
Hopefully, this brief tour is just a test of the waters, and the keyboard genius will make a return visit soon to larger venues with better acoustics. A new album would be nice to hear, too.
Thomas Dolby: http://www.thomasdolby.com