Pawnshop Roses
Brittany Sturges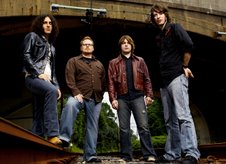 Ever seen a rose in a pawnshop?
Neither has Kevin Bentley, of Philadelphia's own Pawnshop Roses, but that doesn't mean that you can't find some amazing treasures there.
Bentley (guitar) is joined by Paul Keen (vocals, guitar), Justin Monteleone (bass, guitar), and Rich Fogg (drums). With an Americana/classic rock sound, the band is a refreshing sound when compared to those that grace MTV everyday. Inspired by bands like Humble Pie, The Rolling Stones, and The Band, the guys have a sound that sets them apart from every other band out there today.
Another thing that sets them apart from the crowd is the band name. After all, who has ever seen roses in a pawnshop? The guys may not have, but there is a story behind their name. Bentley explained, " We wanted to be called 'Pawnshop,' but the name was already taken. One night, we went to dinner, and there were some fake flowers on the table and it hit us! Pawnshop Roses!" He's quick to explain that the name has various meanings to fans, but as long as you remember the name, they're perfectly fine with what meaning you give it.
With the guys being fans of bands like the Rolling Stones, I figured I'd ask Bentley some questions about their influences…
If you guys could take the stage with any one musician, alive or deceased, who would it be?
Wow, tough one. I can't answer for the other guys, but for me it would be Paul McCartney.
If there was a rock and roll battle between the Rolling Stones and Tom Petty & the Heartbreakers, who would you be cheering for?
Geez, another tough one!! I'd be cheering for Tom Petty, even though I love the Stones. Petty seems to be the same old guy he's always been and really down to earth… Gotta root for the underdog.
If you guys could take over anyone's job for a day, who would it be?
Simon Collwell from American Idol. I heard he makes $36 million a year just for hurling insults at people. Sign me up.
What's the band's one guilty pleasure?
Alcohol and late nights. Oh, and cowboy boots. (sorry thats 3)
What's the best (and/or oddest) find you've ever seen in a pawnshop?
Hmm, I don't know if it's the best thing or not, but I've seen engagement rings and that's just sad. So far, I haven't seen any roses yet…
The guys will be the first to admit that being in a band isn't easy. Bentley explained that people don't really see the obstacles that they're faced with (primiarily the financial struggles) and what he refers to as "the evil underbelly of the best that is the music industry." Yet, getting to meet people at their shows and hear how they have helped to inspire them–it all serves as motivation for the band to play on.
So what's next for Pawnshop Roses? Right now, they're in the running for the Zippo Hot Tour 2006. They are in the studio, working on some new tracks. The boys plan to shoot a video sometime soon, and of course, the live shows they play for the audiences.
If there is one thing they want to get across to people, it's that their real–as Bentley says, "…we don't fake it. We're genuine guys, who like to make rock and roll music without an agenda."
For fans of classic rock, like Tom Petty and The Rolling Stones–this is the band for you. You won't be disappointed.
---