Miami Vice
directed by Michael Mann
starring Colin Farrell, Jamie Foxx, Gong Li, John Ortiz
This is not your daddy's Miami Vice. Gone are the flamingos, the bikinis, the baggy cotton suits and deck shoes. Yes, there is an unshaven white cop named Crockett, and a badass black cop named Tubbs, but little else remains from director Michael Mann's '80s boob-tube classic.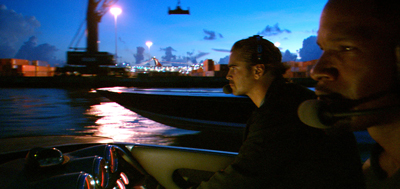 The new Miami Vice is leaner, meaner, quieter and even more relentless. Along with executive producer/series creator Anthony Yerkovitch, Mann presents a stylishly gritty piece of 21st century film noir that is thankfully light-years away from the self-referencing/in-joke driven remakes that have cluttered the screens in recent years.
Colin Farrell and Jamie Foxx are supremely confident and supremely low-key as Miami-Dade undercover detectives who go after an international drug ring after the death of a friend/informant. Along with their support team, Crockett and Tubbs start their own high-tech smuggling operation (complete with the prerequisite Ferrari, plane and a fast boat that makes Don Johnson's Wellcraft Scarab look like a bathtub toy) in order to lure the ring's middle manager, Jose Yero (John Ortiz). Just as the original Sonny Crockett had a weakness for the wrong ladies (remember Sheena Easton?), so does Farrell's character. Shortly after beginning the climb up the criminal ladder, the narcs encounter the mysterious Isabella (the gorgeous Gong Li, Memoirs of a Geisha), who turns out to be the cartel's financial officer.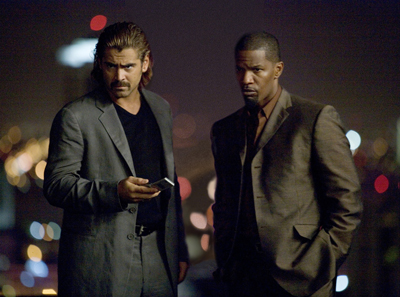 Crockett's and Isabella's whirlwind romance – very tastefully orchestrated and filmed by Mann – of course complicates matters, becoming the film's primary focus.
Jamie Foxx isn't quite the second banana that Philip Michael-Thomas was, but does play a slightly secondary role with subtle, cool poise. Tubbs also has a love interest that becomes complicated, an undefined relationship with a fellow cop, Trudy (Naomie Harris, Pirates of the Caribbean).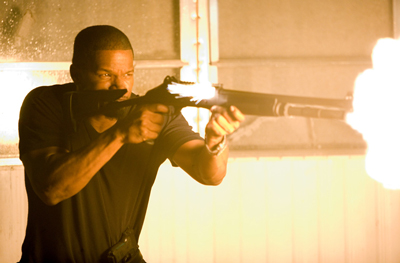 Naturally, as Crockett and Tubbs traverse the waters and airspace of Central America and the Florida Keys, the plot thickens and becomes taut as piano wire. Throughout his career – especially the first Vice, the films Manhunter and Collateral, and the criminally forgotten TV series Crime Story – Mann has always excelled at permeating his films with an atmosphere of danger. The new Miami Vice is the writer-director at his most Mann-ish, putting the audience on the mental edge of their seats as Crockett and Tubbs do their life-or-death tightrope act.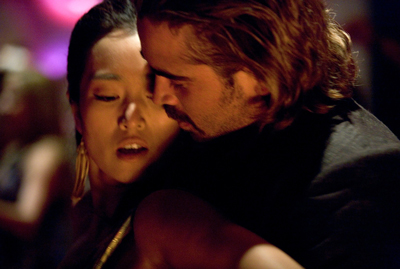 Conversely, Mann doesn't lay everything out for the audience, and his hard-boiled, minimalist attitude towards character development (along with the film's technical references and cop jargon) may very well put off someone coming to see Miami Vice for the Farrell-Foxx hunk factor. The film is not an action flick, either; but when violence is called for, it's swift and ultra-realistic – for example, someone gets his arm blown off with a .50 caliber sniper rifle, and the detectives give more than one bad guy a lightning-fast beat-down.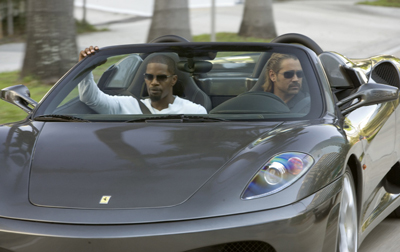 While the TV series was famous for its soundtrack, the cinematic version is sorely and surprisingly lacking in compelling music. Apart from a Felix da Housecat remix of Nina Simone's "Sinnerman," the score, which features Jay-Z/Linkin Park, Audioslave, Mogwai, Moby and Goldfrapp, has few memorable tracks. A lame cover of Phil Collins' "In The Air Tonight" by Nonpoint should have been replaced by the original, or at least a good remix of Jan Hammer's theme.
But this is a minor shortcoming. Miami Vice will please those who relish a no-nonsense, super-focused crime drama; those seeking a piece of '80s nostalgia should stay home.
Miami Vice: http://www.miamivice.com