Bang Your Head!
by Dewey "The Missing Link" Robertson and Meredith Renwick
ECW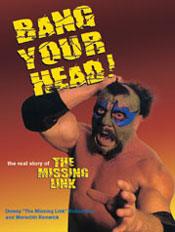 This is a complete autobiography of one of wrestling's more colorful "heels", a grappler with the character of a "bad guy." Bang Your Head is complete in the sense that it covers the arc from Dewey's childhood to wrestling introduction in Canada to even meeting his co-writer and his current post-career activities. Beginning with an interest in body building and the art of wrestling, a young Dewey Robertson became more and more a 24/7 actor playing the role of The Missing Link, a mysterious and unpredictable actor on a colorful and ostentatious stage.
Anyone interested in making sense of the alphabet soup of wrestling federations and how the WWF/WWE rose from the din can benefit from Robertson's travels between the federations and insider's insight. Dewey spent more time out of the WWF/WWE than in it. In comparing the regional and organization differences to the various wrestling organizations there emerges a complete picture of the growth and development of theatrical, "predetermined" wrestling into a popular pastime.
Just as enlightening is Dewey's frank discussion of his descent into substance and steroid abuse. Robertson does a fine balance in the telling and this becomes neither a tawdry tell-all or a preachy lesson. In so doing, the juicy bits come out in sufficient detail and the moral is clear. What is not clear, and would be a story worth telling is how it looked from the outside. Insights from his children (both sons would go into wrestling) and wife would be especially telling. Mrs. Peterson, especially, emerges as an unknown but pivotal elemental of this colorful life. As The Missing Link took his family from high living to low, from state to state, from home ownership to renting at nudist colonies, the matriarch kept everything together with or without money, with or without a present husband.
In the final summation of it, this is a tale of survival. Surviving self-destructive behavior and gaining self-knowledge, Dewey Robertson appears to be one of the lucky ones and his story takes us down a trail littered with the dead, the broken and the forgotten.