Marilyn Avenue
Brittany Sturges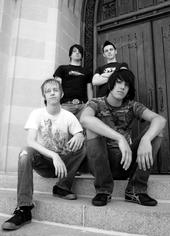 Dating back to 2002, the guys of Marilyn Avenue have been playing show after show to get their name imprinted onto the music scene. With some post-hardcore and screamo influences, the band won coveted spots on both the Taste of Chaos Tour, as well as the 2006 Warped Tour. They have also opened for Haste the Day, as well as Greeley Estates and Adair.
Marilyn Avenue are currently awaiting the release of their full-length album, The Dawning. They sat down and filled me in on the band's history, their live shows and how exactly they plan to celebrate the release of the CD.
The band line-up is as follows: Chris Allen (lead vocals, guitar), Cory Allen (drums), Andy Bane (lead guitar/vocals) and Tony Parkes (bass).
• •
You formed the band back in 2002. How did you know one another and what were you up to (in another band, working, in high school, etc.)?
Andy: I was in an old band, Shifted 56. I was in that [band] with our old bass player, we had another guitarist and needed a drummer. We found Cory, he played his first show with us around October. Shortly after that, we replaced our old guitarist with Chris. Then, about two years ago, our old bass player left and Tony came in.
Marilyn Avenue – interesting name. Where'd you get it?
Cory & Chris [together]: It's our street name.
Chris: It's where dreams are made.
You previously released a self-titled EP and are in the process of releasing The Dawning. How do the two differ musically? How has the band evolved since you recorded the EP?
Andy: The biggest difference between the two recordings is that this one has evolved. It's heavier, it's got more of the songs we wanted on it. We wrote enough songs to make a good choice of what we wanted on it, so this CD is like our favorite songs.
Tony: It's a lot stronger!
What's the best song you've recorded and why?
Andy: "Running Out of Time."
Cory: It sounds good and it's got beef.
Tony: It's really powerful and the recording is just really powerful and solid. I think that song is a good example of how we sound. It has a lot of really heavy parts and a lot of technical parts and harmonies.
How are you going to celebrate the release of The Dawning?
Chris: Go to Applebee's.
Tony: Yeah, go to Applebee's for half-price appetizers.
Andy: Buy some Happy Meals, maybe a CD release show. No, we are going to have a CD release show. We're going to try and make it huge with a bunch of bands. Stuff like that.
Cory: We're going to buy a bottle of champagne.
Tony: Yeah, we're going to buy a bottle of champagne!
Cory: Let's seriously buy a bottle of champagne when the CD comes out, and pop it open!
Chris: Even though we won't drink it.
Cory: Yeah, but we're going to pop it open and set it on the table!
You won the Myspace Taste of Chaos Contest, earning a spot on the '06 Taste of Chaos Tour. How did you get involved in the contest? What exactly did you have to do to win it?
Chris: How did we find out about that?
Andy: I saw a banner for it on Myspace saying that you could get your band on the Taste of Chaos tour, so I thought, "Shit, that would be sweet." I signed up for it and a couple of months later, we got an e-mail saying that we were one of the four finalists to get a chance to play the Dayton show and then…
Chris: We spent the week of Christmas vacation just promoting it a lot.
Tony: We promoted it a whole lot.
Andy: We promoted it for like three weeks until the voting process ended. More people voted for us than the other bands, so we won the spot.
You also recently won a spot on this year's Warped Tour on the Ernie Ball stage because of the Battle of the Bands contest… what was that whole experience like?
Cory: Exhausting! It was really hot. It was good, because we like got our name out there. We handed out a lot of demos for free.
Chris: Yeah we handed out over 150 demo CDs.
Cory: We handed them out for free to get our name out there.
Chris: A lot of people had never seen us before and it made our Myspace blow up the next day, which was good.
So you've won spots on two major tours and you're just about to release your new CD. Is there anything you guys haven't accomplished?
Cory: We haven't been signed yet. We haven't done a tour and we haven't played in space.
Andy: We have not been on tour yet.
You have opened for bands such as Greeley Estates and Haste the Day. Is there one act that the band would love to open for, regardless of their current status?
Cory: Story of the Year.
Andy: Atreyu.
Chris: Story of the Year would be awesome!
Tony: Yeah, Story of the Year or Atreyu.
What was the one band you've toured with (let's include Warped and TOC) that you looked forward to seeing the most?
Cory: Atreyu and Story of the Year, 'cause they bring it!
Tony: Greeley Estates. They're really great guys.
What kind of music are you listening to? Take your iPod, mp3 player or whatever and turn on shuffle. List the first three songs/artists to appear.
Andy: Silverstein, Emanuel, Atreyu.
Cory: Atreyu, Emanuel, Letter Kills.
Tony: Chiodos, Lorraine Drive, Atreyu.
Chris: Lostprophets, Lostprophets and ummm, Lostprophets.
What exactly is the Ohio rock scene like?
Andy: It's gotten better over the last couple of years.
Chris: I think it's a little bit tougher trying to become a bigger band from Dayton than other bigger cities. I think it's really hard compared to bands from like California. Their Myspaces are like three times bigger than ours and they're not signed. Population is one thing that affects that.
Andy: Dayton is a big city, but not that big.
Tony & Chris: Yeah.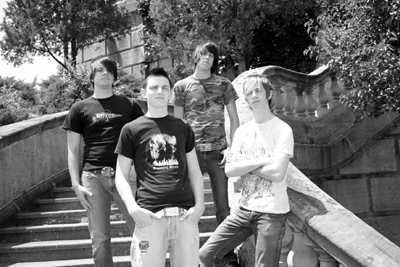 So let's say I've never heard of your group and I wind up at a show you're playing. What exactly can I expect from you guys?
Andy: You would be covered in my sweat, because I sweat profusely.
Tony: We have a pretty good stage presence and we're super tight. [All of them agree they are super tight]
Cory: You would be enamored of everything. You would want to be front row and center. You would be drooling!
If the band were to be trapped on a desert island for a week, what would be the results?
Cory: The result would be a sweet drum set made from palm leaves and coconuts. That's what would get me by.
Chris: We'd play for all the forest animals!
Andy: On a desert island? [The whole band starts laughing]
Chris: Yeah…forest animals. About that.
Cory: We would rescue everyone and be like the whole cast of Gilligan's Island Can I say that?
Cory: That would be sweet because they never got off the island!
Andy: It'd be like our own reality TV show.
Tony: It would be funny.
So what did you do last Saturday night?
Chris: I watched the giant squid show [on the Discovery Channel].
Tony: We went camping.
Andy: We blew up a bottle of diet Coke with Mentos, and got drenched by it.
If you could change one thing about the current music scene, what would it be?
Tony: It's not like a huge thing, but people need to respect bands more, I think. Like you don't realize how much local bands playing little venues put into it.
Andy: We have a lot of really supportive fans, but we would love to see more people come out.
Craziest stunt you've pulled on stage to date…
Cory: Chris prances like a horse.
Chris: Yeah, I did gallop across the stage a little while ago.
Andy: I busted my ass tripping over a cord, but I made it look like a move.
Tony: I fell in a big crack in the stage. We have it on video.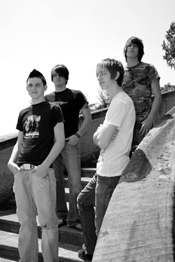 Cory: I passed out once, but that wasn't a stunt. That just happened.
Tony: I hit Chris in the back of the head with my bass multiple times.
Chris: He just rams me! [Cory starts humming a song, which apparently jogs Andy's memory of a stunt]
Andy: Oh here's a stunt. We opened a show once with "Eye of the Tiger."
Are there any rituals or anything that must be done before a show?
Cory: I require 15 minutes for prep at least…at least. You have to look good! [Laughs]
Chris: Stretching.
Tony: Not playing in shoes because it's more comfortable.
Andy: Playing in a bandana. Oh, Chris has to have Nivea lotion on his hands.
Chris: But that's an everyday thing, and lip therapy.
In five words or less, describe what sets Marilyn Avenue apart from all the other rock bands.
Cory: We are highly explosive!
Andy: "Originality" would definitely be one word.
Cory: I still say we go with "we are highly explosive… yeah!" That's five.
Tony: I would say "we are original."
How far would you travel to see your favorite band?
Chris: I've never been that far.
Tony: Like 50 miles.
What is the worst/best karaoke song ever?
Cory: "It's Raining Men"…no, that's actually a good one.
Chris: "The Macarena" is bad.
[During the interview, a guy overhears the question and on his way out the door asks if they have ever heard anyone try to sing "Henry the 8th I Am."]
Cory: Just put in the tow truck guy's answer!
Tony: Yeah put the tow truck guy said…
Sum up the whole experience of Marilyn Avenue in two words.
Andy: [laughs for a minute] Oh there are so any things I could say.
Cory: Try to avoid cussing…I would say "orgasm"
Andy: I was going to say "wet panties"
Tony: Yeah just put that – "wet panties."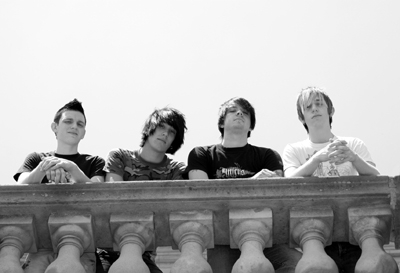 So I read some quotes from Joey Sturgis and Tyler Smyth, both basically expressing admiration for the band and indicating that your band dares to step out of the mold that so many bands wind up in. How has that helped Marilyn Avenue succeed in places that others haven't?
Tony: A lot of people get sick and tired of hearing the same music. They go to a show and we will be the only band that sounds like us. That makes people remember us.
What did you want to be when you were growing up?
Cory: I wanted to work at a car wash because I heard that they made good tips there.
Chris: Besides graphic artist, I wanted to be a hit man.
Tony: I wanted to be a park ranger.
Andy: I always wanted to be a paleontologist.
Favorite thing to do when not playing/recording?
Cory: I don't think we can put that in here.
Chris: A lot of extra curricular activities like camping, playing video games.
Tony: Camping, canoeing.
What's one thing that sucks about being in a band?
Chris: Carrying your own shit.
Cory: We can all agree on that!
Chris: A quarter mile walk to get to the stage at Warped Tour.
Andy: Making 200 shirts, printing them yourself.
Cory: Oh yeah. Playing a show, making no money and spending over forty dollars on gas.
If someone were to make a movie about the band, what would it be titled?
Cory: Ernest goes to Marilyn Avenue.
Tony: Marilyn Avenue Live from New York.
If you could ask your fans one question, what would you ask them?
Cory: Why won't you come to our shows more?
What will the next 6 months be like for Marilyn Avenue?
Cory: Writing more songs.
Chris: More shows, lots more shows.
Andy: Getting our CD out, getting signed and a tour.
Tony: He's ambitious!
Fill in the blank: Caution : Marilyn Avenue __________
Cory: Is highly explosive!
Tony: Sweats a lot.
Chris: Is covered in blood.
Cory: Sucks at interviews.
What's one thing, above all, that the band as a whole wants to (has) accomplished?
Andy: A tour.
Cory: A tour of Japan.
Tony: Yeah, Tokyo!
Cory: Or just overseas. I hear the UK has great fans.
Chris: World Tour!
Cory: What if just get on a tour here first? [They all finally agree just a tour would be fine]
Anything I may have missed that should be included?
Cory: Andy likes to free style…
Andy: Yeah a little bit. Not that I can think of.
Cory: My head is extremely itchy from all the bleach I used on my hair
Tony: We're looking forward to making new fans! I think that's it.
For more information on their CD release and live shows, you can check out their main website or visit the band's myspace at http://www.myspace.com/marilynave
Marilyn Avenue: http://www.marilynavenue.com ◼
---