Raquel Aurilia
Kyrby Raine
Cincinnati Reds fans shouldn't be unfamiliar with the name, even though her music hasn't climbed the charts yet. Raquel Aurilia, wife of Reds slugger Rich Aurilia, is a newcomer to the music scene although she has the vocal smarts of a veteran player. Far from the inexperienced, limited range of your typical greenhorn, Aurilia exudes self-confidence and real emotion on what could've been your typical mainstream pop/rock record.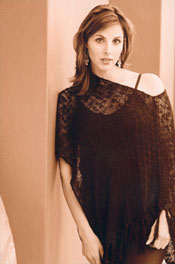 • •
Your album is well-constructed in its arrangements, lyrics, and performances. Describe the experience of making the record.
Making the record was a great experience. Everything from the song selections, to the lyrics, to the recording sessions was a learning experience for me, being so new to the industry. Working with Billy Trudel and Tony Papa was so helpful and helped me to reach the right emotion and energy that each song called for.
What do you think separates you from other female singer/songwriters?
I think that my music on the album is very diverse and each song has its own style. There is a little bit of R & B with "Tears," a little bit of rock with "One Step Closer," and even a little bit of rap-rock with "For What It's Worth." We tried to include songs on Finding My Way that had a great feel to them and lyrics people (of all ages) could relate to.
Your husband is baseball player Rich Aurilia. Have you performed at any of his games?
I did sing "God Bless America" at one of his games at Pac Bell Park in San Francisco. It just happened to be a playoff game too which made it more intense (thank goodness they won that game). I have not had the opportunity to perform any of the songs off my album at a game, but some of his teammates did attend one of my shows in Los Angeles, so that was great.
What was it like opening up for B.B. King?
Opening for B.B. King was such a great experience. He is so amazing and is such a great performer. The crowd response during and afterwards (with CD sales and meeting people) was amazing. The show went really well for us overall, and on a personal level too. I am glad the crowd responded to our music in such a positive way, because B.B. King is rhythm and blues and my music is quite a bit different. I am so grateful for the opportunity and hope to have more opportunities such as this in the future.
Of all the songs on your CD, which one are you the most proud of and why?
Even though "For What It's Worth" is a blast to sing live and the crowd responds so well to it, I think the song "The Need" is one that everyone seems to be able really relate to. I enjoy singing it and love the message that it has to offer. The emotion behind it is one that I really feel a connection with, and I feel that I am proud of the way it has turned out.
Raquel Aurilia: http://www.raquelaurilia.com