A Paper Tiger
Brittany Sturges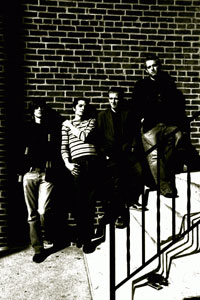 For a band that is less than two years old, the guys of A Paper Tiger know what they're doing when it comes to music– and they're doing it extremely well. Armed with some great music and an extensive knowledge of the local scene, the members of A Paper Tiger are ready to make their name known to anyone and everyone.
A Paper Tiger consists of four members: Christopher Cooney (lead guitar, back-up vocals), Bradlee Cumberbatch (percussion/drums), Keith Montgomery (bass) and Nikolai Mariakis (lead vocals, guitar). The band got together back in August 2005, after a line-up change that introduced Brad to the group. Since then, the band has recorded a six song EP, entitled Deadly Precise and have played various shows in and around Pennsylvania.
"The name, 'A Paper Tiger,' originated from a colloquialism of Mao Zedong," Nikolai told me. "The quote says something like, 'Its appearance is very powerful, but in reality, its nothing to be scared of.' It wasn't the colloquialism in and of itself that we liked, so much as we liked the sound of the english translation of it. We particularly loved that combination of words." Keith went on to explain that the band had been searching for a name before Nikolai's suggestion and were even called "Replica" before going with A Paper Tiger.
Just like the change in band names, the band line-up had also been switched. With Nick out in California, Chris was calling him cross-country, writing lyrics and music. They, along with Liam Hare, decided to start the band. Keith knew Nick through a mutual friend and had crashed at his place on a tour stop. So with his addition and Nikolai back in Philly, the four came up with the name and the band seemed complete.
Liam, however, decided he was going to move out to California. First, he made sure to pass along Brad's number to the guys, who had several shows booked. Things worked out and Brad joined the group in August 2005.
Keith, Chris and Nikolai met up with me at Cosi Café and shared some of their history and even a fondness for the new Killers' album. I was able to talk to Brad via e-mail and get his opinion on things.
You describe your sound as "a proper blend of sunshine and violence." Why describe it as such?
Nikolai: It was one of the first things that popped into my head. Our shows are extremely energetic and turbulent.
Brad: Nick came up with it… and it just fits. Everyone just likes to make every part both POWERFUL and musical, thus… violent, yet sunny. If you can see the parallel…
Why does the band use Myspace solely as their website?
Brad: We're poor bastards, honestly… haha.
Nick: We're fortunate to be able to promote our music on myspace. Instead of just throwing up a website, I'd want things to be done right.
What did you want to be when you grew up? As little kids, did you want to be musicians?
Chris: I wanted to be an airline pilot and a virologist. My mom actually told me a story about how, when I was four, we were in the car. There was an Elvis song on the radio and I was playing air guitar. Since then, she knew I was going to be involved with music.
Brad: I just wanted to dance, honestly… I still have this dream and I live it out in my bedroom… on a daily basis.
Nikolai: Since I was a wee lad, I was inclined to do creative things. I was inspired by the architect, Frank Lloyd Wright. I remember one day I saw this video by a band and I just knew I'd be involved with music.
Keith: I wanted to be a film director, but I had to settle for being a guitar hero.
When did you learn to play your respective instruments?
Keith: I learned to play bass at 7 and guitar at 19.
Chris: 17
Nick: I was between 15 and 16. I learned from my neighbor, who was actually the old guitarist for the band, Days Away.
Do you have any kind of rituals before or after you take the stage?
Chris: A séance. (Laughter)
Keith: I like to have a glass of wine.
Nikolai: I like some solitude and get some time to relax. Usually, as soon as we get there we have to set up our equipment and we go on. Afterwards, we have to hurry up and get our equipment offstage. It can be pretty hectic.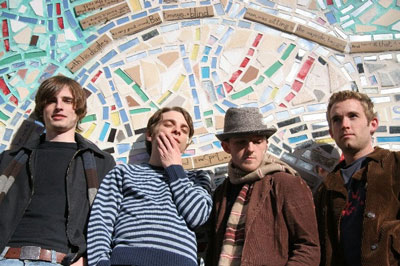 Brad: I'm a big fan of getting the guys together, somewhere quiet and just talking. I don't get my wish all too often, but when I do, I notice how much more connected we are onstage if we hang together before we play. We get into each other's head and get a feel for each others' moods. I think that's a very important aspect to live performance.
You play gigs at night, but what do you during the day?
Keith: I work for a title insurance company.
Chris: I work as a server and a landscaper.
Nick: I am actually starting to work at a non-profit organization on Monday.
Brad: I'm a law school student, a consultant/researcher for a technology company downtown, doing intellectual property work and a full-time musician. It's a balancing act, as I'm sure you have heard.
If you guys could get the chance to ask your fans one question, what would you ask them?
Brad: What's the BEST part of our live show?
Nikolai: What is so alluring about our band? There is a significant difference between liking a band and being allured by a band. Like isn't as strong as allure. With allure, its about the band's look, their image, their website, their music, their behavior– everything. You fall in love with the band. So I'd ask them what is so alluring about us? (Keith and Chris agree to this.)
So being a Philadelphia band, what's your thoughts on the rock scene here? Are we forever going to be known primarily for r&b and hip-hop; does our rock scene have a chance?
Brad: Philadelphia is an interesting place, honestly. Having spent all of my college time in Boston, touring around New England with my old band "Who's the Fat Guy?" I was able to see the NYC and Philly scenes from a totally different point of view. Then, I moved home and began to see that Philly DOES have an original scene, but it DOES suffer from an unexplainable interest in "cover band music" and PA people LOVE other people's music. That's very different from many venues up North, where I felt like original music was more prominent and accepted. I feel like Philly is beginning to open its mind up a lot more, especially with rock music. It's a good time to be an original band in this area… It's all about karma these days and thankfully, we're a very respectful and open-minded band. Now, we just need to make the world see us for who we are and hope that others agree.
Keith: I'd say it has a lot of promise.
Nick: It all depends on what you mean by the word "scene". When I hear that, I automatically think of Seattle back in the 90s. It will never be Seattle, but we do have some forerunners, like MeWithoutYou and Circa Survive. If we could get some more artists out there, maybe platinum or gold-selling artists and really get their names out, it could happen.
What are some bands that you are listening to right now?
Keith: Explosions in the Sky, Isis, and Caspian. I used to listen to the Saosin EP over and over again, while I was driving.
Chris: Snow Patrol, Jeff Buckley, the Rent soundtrack.
Nikolai: VHS or Beta. The new Killers album, have you heard it? I listen to the song "When You Were Young" repeatedly. I'll get about 30 seconds into the song and I'll just start it over again. It's like an illness. I'm also listening to the Decemberists and the Hush Sound. My Chemical Romance are good.
Brad: Beck, Muse or any/all things hip-hop.
So if the four of you were to find yourselves trapped on a desert island, what would happen to the band over the course of a week?
Brad: MAN, that's a scary thought, Seeing as we're all underweight, it'd be a FIGHT for food, haha. AND Nick is a vegetarian and Chris eats like one a lot of the time so… they'd be looking for veggies all day. Keith and I would likely go kill something and roast it. Honestly, I'm really interested in seeing what they said to this question because I haven't even discussed our personalities aside from our eating habits, haha.
Nikolai: I'm a vegetarian, so….
Keith: I'd probably just eat Nick.
Let's just hope that the band is nowhere near an island anytime soon.
Anything else you may want to add?
Brad: I want to thank our families and hordes of great friends and fans that support us at shows and have helped to spread the word about the good music that we're trying to create. It's never easy to make it out to every show, yet we have those kinds of friends and they really do make it all worthwhile… Thanks again for doing this article on this great band and I really hope that you see/feel this music as I do– something that is worth more people's time and attention.
With a somewhat different approach, the band has and continues to offer a money-back guarantee– something extremely rare in the music industry. Thus far, no one has taken them up on their offer.
Energetic live shows. Great rock music. Intelligent and witty guys. Add all of those factors together and you have the perfect recipe for a great, new rock band. Be on the lookout for A Paper Tiger– they're on the prowl.
---