Cursive
Jeremy Enigk, The Cops
Orlando, FL • Nov. 22, 2006
Jen Cray
On the first real cold night of our Florida winter (temperatures way down in the 30's), I happily trotted down Orange Ave. towards The Club @ Firestone for a night of Indie Music. This umbrella genre means a lot of things to a lot of people, but at its core, Indie is nonconformist bands doing it themselves without the corporate restraints and regulations bogging them down. With this freedom of sound, of image, of performance- an Indie show can either be amazingly inspiring, or it can bore me to tears. Cursive , with Jeremy Enigk and The Cops did a little of both.
After a painful opening set by some band whose name I didn't even try to catch, The Cops exhibited their interpretation of The Clash, and it wasn't bad. The Seattle band was ripping off the masters practically note for note, and the singer was channelling Joe Strummer in pose and voice, BUT I didn't mind. Why? Two reasons: 1. The first band having crushed my initial optimism for a fun night, I was eager to get back my good time high; 2. The Cops were good. The guitarist kept climbing the speakers, jumping about and smiling like he was having the time of his life. The interaction between bandmembers was spontaneous and gave the sense that these guys were friends who were out to enjoy themselves and one another's company. The music, as I said, was The Clash reworked for the 21st Century. Well, guess what, I fuckin' love The Clash- so be it!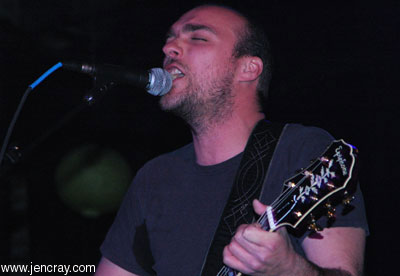 After this jolt of energy got my blood pumping once more, former Sunny Day Real Estate frontman Jeremy Enigk brought the party crashing back into the depths of oh god, shoot me!. Really, I don't know what I was expecting, it's not like SDRE were a fun, happy band, but Jesus! The Godfather of Emo was nothing but a dull monotone. A depressing drone that sucked the life right out of me. Amazingly I saw a number of fans (twentysomething men, all of 'em) pumping their fists, singing along, and swaying like they were witnessing greatness. I didn't look closely, maybe they were wearing their ipods and were tuned into something else, because for the life of me I can't understand what they saw/heard in the boredom that was Jeremy Enigk's performance.
By the time Cursive was up, the club was mobbed with people. It must have soldout, because I could hardly move in the tight space. Further establishing their status as the "cool band on the bill," the bouncey guitarist for The Cops came onto the stage- seconds before Cursive's set- and squeezed himself into the front row next to some Cops fans, beer and ciggy in hand, ready to party.

Cursive isn't a "party" band, but they do play Indie with a kick. It's not all about cellos and quiet introspection, although they do have a cellist onstage and they do play songs about death. For every soothing melody, there's a guitar halfway to shredding. The band onstage wasn't as mobile as The Cops, but compared to Enigk they were tornadoes. Playing some favorites in between the new tunes off of Happy Hollow, their sound was pleasant but not quite enough to save the evening. At least the walk to the car after the show was brisk enough to reawake my senses.
---