Jazz and Traditions
by Bob Pomeroy
For as long as there have been musicians playing jazz, there have been critics trying to safeguard the purity of the music. Many of these critics have decried the desecration of the jazz tradition when innovations take hold. There were folks who said that big band wasn't real jazz. Then there were people who threw up their hands and declared bebop noise. I won't even mention the ripping of clothes and shouts of protest over free jazz and fusion. Despite all these assaults to the purity of the jazz tradition, the music goes on evolving, changing and finding new and different ways of expressing the spirit of jazz.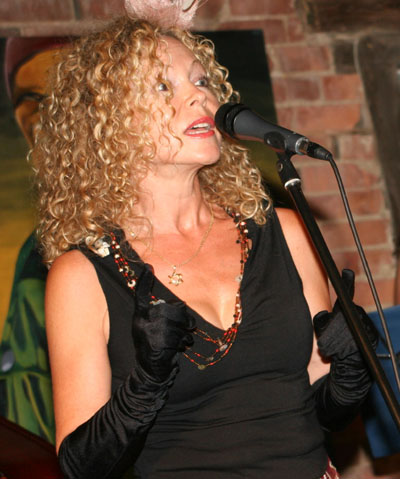 I came to jazz through the ethnic explorations of performers such as Don Cherry and the Art Ensemble of Chicago. These performers linked jazz to other cultural traditions. The Art Ensemble called their music Great Black Music, Ancient to Future. Don Cherry actively pursued collaborations with musicians from other cultures. The two CDs I want to tell you about today continue this process of linking jazz with other traditions. Lenke Lichtenberg explores the union of jazz and Yiddish culture. The Sunny Jain Collective filters jazz through their Indian cultural traditions. While these cannot be called "pure" jazz releases, their purity of spirit is something to behold.
Lenke Lichtenberg was a teen pop star in Czechoslovakia before moving to Canada to further her studies. She earned a degree in ethnomusicology at York University in Toronto and has performed in just about every musical genre imaginable. Her passion, though, is exploring Jewish traditions, including cantorial and Yiddish music.
Pashtes/Simplicity, is a collaboration with Brian Katz setting the poetry of Simcha Simchovitch to music. Lichtenberg first encountered Simchovitch at the 2003 Jewish Book Fair in Toronto. She became friends with the poet and decided to take his words in another direction. Lichtenberg and Katz crafted music that allows even non-Yiddish speakers to appreciate the beauty of the words. To my ears, their settings are primarily chamber jazz arrangements with touches of Brazilian, flamenco, classical and theater music adding color. The opening track, "The Golden Peacock," floats on a moody bass riff that recalls Jaco Pastorious' work with Joni Mitchell. "The Garden Party" makes me think of the early work of the Paul Winter Consort. Throughout the disc, Lichtenberg and Katz infuse the music with such a joy for living that it crosses linguistic and cultural borders. Listening to Pashtes/Simplicity makes you feel good, no matter what language you speak.,
New York-based percussionist Sunny Jain is an exponent of Indo Jazz, the melding of jazz and South Asian musical traditions. Jain has performed in many settings on the New York jazz scene. With his group, the Sunny Jain Collective, he has toured India three times. The collective is a multicultural unit which draws on a wide range of traditions. You'll hear echoes of John Coltrane bounce off ideas derived from Chinese poetry, Hindustani classical music and laptop electronic improvisations..
Avaaz (Hindu for sound) is the second release from the Sunny Jain Collective. From the opening track, the Collective treats us to an organic blending of traditions. "Sialkot," kicks things off with Samita Sinha singing over a bouncy, Bollywood-meets-Birdland groove. The song's pulsing beat and Sinha's soaring voice give the song a festive feel. Sialkot is a city in Punjab which became part of Pakistan in 1947. The lyric comes from an Urdu poem by Pakistani poet Faiz Ahmed Faiz and speaks to the hardship caused by the partition of India and Pakistan.
Each song explores a different emotion. "Pink City" sounds as if it were inspired by David Holland while paying homage to the city of Jaipur. "Awaara Hoon" is an arrangement of a song that originally appeared in a 1951 Bollywood film while "Baraat" is inspired by traditional Indian wedding processions. "Wo Xiang Ni" is inspired by a Mandarin Chinese poem. While I quite enjoy this album, I find that I'm particularly drawn to Samita Sinha's vocals. When she sings, it feels like the songs take on added vibrancy.
As I wrote about these CDs, I thought about what attracts me to these sorts of projects. What is it about music that combines various musical and cultural traditions that fascinates me? Then I heard the news on the radio in the background. Aside from the fact that these artists are making wonderful music, they are also showing us through their actions that people of different ethnicities, religions and traditions can live and work together. These artists demonstrate that harmony is possible in this world. For the duration of a CD, it is possible to believe that the cultural and political differences that are tearing the world apart can be overcome. For as long as the disc plays, there is harmony in the world.
http://http://www.lenkalichtenberg.com, http://www.jainsounds.com/