Leroy Justice
Brittany Sturges
With a good ol' Southern feel and a name that screams Americana, it's a surprise that Leroy Justice is a band straight out of New York City. After seeing their performance at the Bitter End, I was able to chat with Jason Gallagher (vocals and guitar) and Sloan Marshall (keys), before a Tuesday night show, about their whole Southern feel and some of their dirty secrets that even their fans don't know.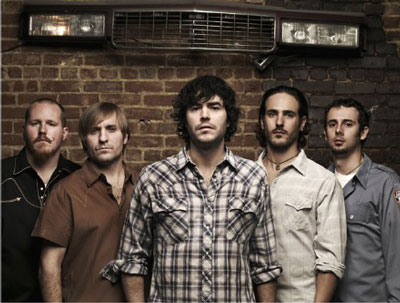 Leroy Justice is composed of Jason, Sloan, Jim "Chickenbone" Ernst (drums), Bradley Wegner (bass) and Brendon Cavanaugh (guitar).
How and when did Leroy Justice begin?
Jason : The band started back when I was playing acoustic. I met up with Jim– his band had broken up– we merged together. It was a bit grittier. It grew from collaboration. We lost members, but then Sloan joined and we acquired Brad. So I guess you could say that this line-up has been together a year and a half.
I read that the name "Leroy Justice" has an interesting meaning. "Leroy" is the name of the name of a good friend's father (what you consider "soul") and "justice" is your bit of Americana, correct?
Jason : Yea, that's right. It was fitting. If we analyze it, it has a bit of soul and Americana– just like our music. The music is based in bluegrass, soul and country.
You recently released your ten-track CD debut, entitled Revolution's Son, correct? Any reason you didn't release the normal "EP" first and then a lengthier CD later on?
Jason : Yes, it's ten tracks. We all wanted a product for both review and showcase. When we started recording as a band, everything was going incredibly well. We were going to narrow it down to five tracks, but we loved all the ones we recorded. I mean, each song was taking only one or two takes– we had the studio time, so we kept playing. The songs kept piling up. We connected to all of the songs and finally managed to pick ten.
Where did the title Revolution's Son come from?
Jason : It comes from the first track on the album. The words were written when I was in L.A., away from the band. It turned Leroy Justice into a band that is something more than just a gritty bar band. We play– really get out there and play every night.
Speaking of songs on the album, I heard your rendition of Prince's "Purple Rain." Any reason why you chose to cover that song in particular, especially with the whole Southern feel of the band?
Jason : I'm going to let Sloan answer this one.
Sloan : "Purple Rain" kind of fell into our lap. We were playing at a fundraiser for Brad's friend and she requested that we sing "Purple Rain." We kind of goofed around with it. Something happened and it turned into country rock. When it's played live, the audience is usually very receptive. The request turned into a pretty good following and it was something we all had laughed at.
I saw your video on YouTube for the song "Belt Buckle." When did you guys film that and who directed it?
Sloan : It was directed by John Hyams, who directed the movie Rank, which is a movie about professional bull riders. The cinematographer was Steve Schleuder. We were lucky that we know a lot of filmmakers and people in that field. We used a 35-mm camera, which reduced the price to about a fraction of the cost. We pulled in a lot of favors. Overall, it cost about $1,000 with the film and processing.
Where was it filmed?
Sloan : It was filmed at Drive-In Studio in NY in one 20-hour day.
So back to the music. It has a definite Southern feel, but you're all from New York…
Sloan : I think I can say that we all pretty much grew up on 70s classic rock, including Lynyrd Skynyrd.. I mean, we're different in the sense that Skynyrd has that honky-tonk Southern rock feel, while we're more collective all around. But our roots are based in that classic rock.
I saw you guys play at the Bitter End on the same night that Fat City Reprise played. I noticed on a flyer that you guys were scheduled to play there three times in December… Do you play there a lot?
Sloan : We played there a few times during the end of the year. There were decent crowds each time– it was a three day thing, well three Saturdays. We're playing there New Year's Eve as well.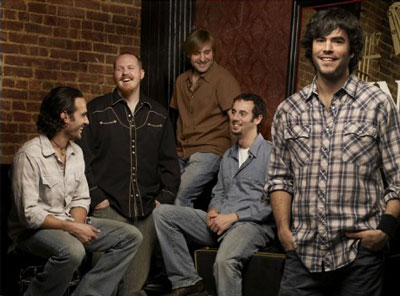 I was surprised– you played the set sitting down. I think you may have been the first band to do so.
Sloan : The sets aren't usually that mellow. The first show we played at the Bitter End was bit more original, the second was mellow and acoustic. The third we had about ten people on stage…
You're playing New Year's Eve… any special plans to add to the stage show because of the occasion?
Sloan (laughing): We're open to suggestions. We're brainstorming about it right now. Either way, we'll be ringing in New Years on stage. We're not out to get everyone to love us. We want to have a good time and play music. It's contagious. We're happy… the whole damn world is happy. (laughs).
If you could describe Leroy Justice in five words or less, what would you say?
Jason : Makes you stand and dance.
So what are you doing for day jobs, if you don't mind me asking?
Jason : We're hustlers– in legal ways! (laughs) We play the rock n' roll. Wait, make sure when you write "hustlers' you spell it "husslas" with an "a"
Will do. I just wrote that down. If you could ask your fans one question– just one– what would you ask?
Sloan : Does anyone have a lighter?
Jason : Does anyone need a beverage?
Speaking of beverages, you guys played with a bottle of liquor on the keys… is that a staple decoration on the keys (laughing)?
Jason : It pops up every now and again. (laughing) We are looking for sponsors. We're a little "bourbon rock" I guess you could say. The bourbon is a little blue-collar, a little gritty…
What's one thing the band never leaves home without?
Jason : Drumsticks. It's ironic. We always have drumsticks. We're about to play a show and tonight is the first night Chickenbone doesn't have drumsticks. (mumbling from Sloan in the background) Drumsticks. Oh and Sloan said "underwear" which is ironic as well… (laughs)
Any dirty secrets that even your fans have no idea about?
Jason : Brendon, our guitarist, his nickname is "hot lunch." It was some kind of email chain that was in one of our inboxes. Brendon had just joined the band and he knew what it was… it just stuck. (laughter. Brad is called "bracelets" because when we played SXSW, the band received bracelets, which gave us all-access. It was a four-day festival and Brad left all of our bracelets on a table in a restaurant.
Thanks guys for your time. Anything I may have missed?
Jason : We're looking for fans to write in and email us, begging Brendon to grow his hair into a 'fro. It needs support! (laughs). Seriously, you must come and see a live show. It's imperative to understanding the band. It we are ever near, please come and see us! We can't be described or even understood until we have been experienced. We're going to keep on playing as many nights as we can, making friends and hopefully sponsors… you know, sponsors can be friends…
And friends can be sponsors?
Jason : Exactly. (laughs)
http://www.leroyjustice.com