The Ettes
The Wynn Brothers Band
Orlando, FL • Jan. 15, 2007
Jen Cray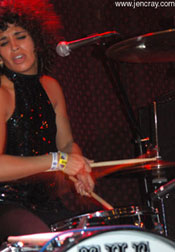 A last minute switch-around transformed The Ettes' headlining gig at Orlando's The Social into a benefit show for the Invisible Children organization. On a bill stacked with local talent- both musical and spoken word- and including a 30-minute documentary about a young African boy's tragic struggles in his worn torn country, the Los Angeles trio stole the show despite their less-than-prime time 9:15 performance. It was, as the ads promised, an eclectic night of music and message.
Skipping out on the early going-ons, I got to the bar midway through The Wynn Brothers Band's set. Roots rock in the spirit of the Allman Brothers, this multi generational blood-relation sextet play southern fried, down home rock 'n' roll. Once again, the Orlando crowd is spooning the new Americana down their gullets like spicy bbq on a hot summer day. Southern is as southern does, and these southern guys and gal evoke the backyards and the bayous.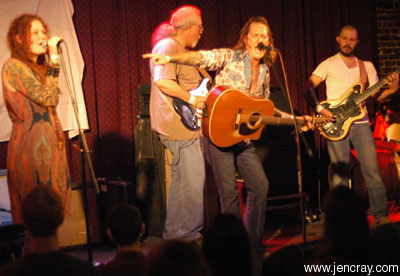 Before The Ettes were set to wow us, spoken word artist Blue gave a riveting freeform performance of a piece called "Dream Killers." I haven't been present for any spoken words since my college days frequenting open mics. I'll admit, I even got up and read some stuff myself a time or two. What Blue delivered was not esspecially profound in its concept or versing, but her smooth Macy Gray-esque rap-talk singsong was something to take notice of- and everyone did. The clatter of bottles and chit chat was silenced during her five minutes onstage, and Blue had the room in her hands.
Guitarist/singer Lindsey "CoCo" Hames is from Orlando, and though the band is based in L.A. I'd like to take this moment to claim them for my fair city. They're ours, L.A.- you can't have 'em!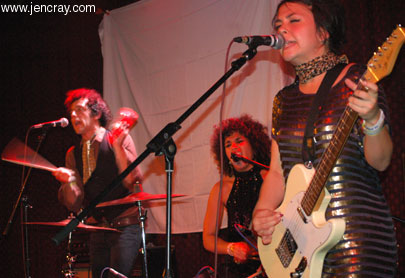 Joined by bassist- and sole male onstage- Jeremy "Jem" Cohen, and perhaps one of the most captivating drummers you could ever hope to serve an audience to, Maria "Poni" Silver, CoCo fronts the garage rock outfit with a shy but charming presence. As enrapturing as her voice and adorable smiles onstage are, it is Poni's hyper attack on the drums that plays center stage. If actress Rosario Dawson was cast as Cindy Blackman (Lenny Kravitz's drummer with the impossibly large- and always colorful- afro)- this is what Poni looks like. "How long have you been playing?" a fan asked her after their set. "Three years," she said. Sometimes skill is born not learned.
The band pounded through a perfect performance that called to mind Bikini Kill, The Runaways and The Detroit Cobras all rolled into one crisp, clean package. They closed out the night with a cover of The Reigning Sounds' "We Repel Each Other," much to the elation of a few vocal members in the crowd.
To see more photos of this show, and others, go to [www.jencray.com](http://www.jencray.com/bands_live.htm).
---