Dir En Grey
Fair To Midland, Bleed The Dream
Orlando, Fl • February 2, 2007
Jen Cray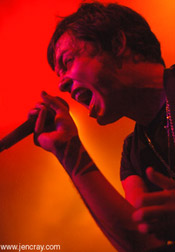 For their first ever headlining American tour, Japan's Dir En Grey have come stampeding out the gate- selling out the second night of the trek that they've dubbed Inward Scream.
Egged on by the band's film crew who were out catching audience shots, the already hyper Orlando fans were screaming bloody murder long before the doors were even opened. With most of them dressed in Marilyn Manson meets My Chemical Romance mall goth, I feel that it's not too presumptuous to think that the audience had a large percentage of Manga fans. For those not in the know, Manga are ridiculously popular Japanese comic books that read back to front and are often sexual in nature. People get obsessed with the comic series' in a Dungen & Dragons sort of way. Dir En Grey, whether intentional or not, appeal to the same clientele… which is why I have deemed their style Manga Metal.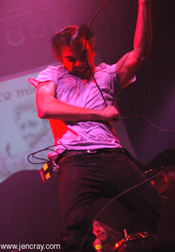 Surprising in how well they were received were openers Bleed The Dream. They played the same screamo crap that triggers my gag reflex, yet somehow made it work for them. This feat can be accredited to frontman Brandon Thomas's stage presence, which was confident beyond his years. The crowd loved BTD- whose music was not ambitious, but didn't quite seem to get Fair To Midland – whose music does take chances and challenges the listener. The Texas band is the first to be signed to Serj Tankian's Serjical Strike Records, and their experimental prog rock was not what the audience was expecting.
Vocalist Darroh Sudderth transforms from a timid frontman to a spasmatic burst of flailing arms and uninhibited vocal explosions that make him one of the most courageous singers in rock music. While the band tossed out nuggets from their upcoming debut full-length (Fables From a Mayfly: What I Tell You Three Times is True), the audience appeared confused by the category-defying music. F2M are not a band that's going to just hand you a sing-a-long chorus, or a moshable beat. Like The Mars Volta or Tool, their skills are multifaceted and recquire more than just a distracted listen to fully appreciate. This is a band that deserves to be applauded for the chances they are taking.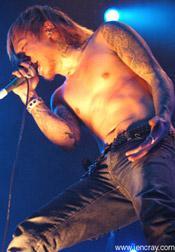 I had no idea how immensely fanatical Dir En Grey fans were. They just got off the Family Values Tour with Korn and Deftones, but they were low on the food chain on that tour, so what could be expected? Not this.
Before the band even came out, a half-dozen suffocated fans were being pulled from the crowd because of how tightly packed the floor had become. Rabid, really, is the word. And when the young, fancily dressed boys stepped into the green light and smokey haze, the response was shocking.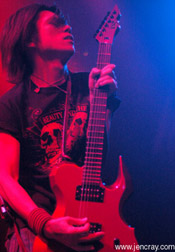 Promoting their soon-to-be-released sophomore American effort, The Marrow of a Bone, the Asian outfit play a far east blend of metal, industrial and hardcore. Frontman Kyo is a petite cartoonish little mass of muscle that made the girls who aligned the front row scream out. Noone seems to mind that what he says can hardly be understood (I'm pretty sure it's english, but I couldn't decipher it). The bleached blond singer spent much of the set squatting on a metal box at the edge of the stage which gave him the appearance of being taller than he actually is. When he wasn't standing on this set piece he was jumping off of it, or rolling around on the floor or reaching out to tease the fans. Nothing short of a showman.
Dir En Grey are the hot new Japanese export.
To see more photos of this show, and others, go to [www.jencray.com](http://www.jencray.com/bands_live.htm).
---