Slings & Arrows
Chris Catania
The Metro was once again buzzing on a Saturday night. The spotlight was on Chicago's indie-scene as local alternative radio station Q101 was in the house to promote the bill of indie talent and, more importantly, to get the local crowd riled up about another member on the night's guest list- MTV, which was visiting the Metro to shoot live footage for a forthcoming documentary on the legendary venue.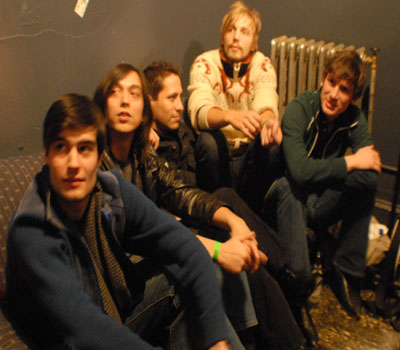 I had a brief pre-show chat with one of the night's performers, Slings & Arrows lead singer and Portland-native, Henry Brown. The rest of the Chicago indie-rock quintet simultaneously chimed in as a unified and collective voice about how S&A is on the cusp of sending their innovative rock beyond the perked ears of the Windy City.
Yes, the moniker is pulled from one of literature's most famous Shakespearean soliloquies but the lyrics don't evoke the cheesiness of watching Romeo & Juliet in sophomore English class but actually make me wish that high school teachers would wise up and incorporate some of S&A's curriculum-galvanizing grooves into the snore-fest of a syllabus.
I pulled up a chair as we all squeezed into close quarters for the backstage blitzkrieg discussion.
"Not My War" is a sharp protest song almost hidden inside an upbeat pop groove that yanks your head around when you hear the reframed "Give Peace a Chance" lyrics. How did it feel writing a political song that you can dance to?
Henry Brown: I figured why beat around the bush since we're so past innuendo about the war at this point and people are dying. I definitely wanted the song to say something political but we wrote it with major chords so you can still tap your foot and dance to it. I just had certain things I wanted to say about the war going on so I just said it.
You guys really mine the '70s arena rock and then mix it with a heavy dose of experimentation and psychedelia. Do you talk about what you're listening to when you're recording together?
S&A: We don't really talk too much about what we're each listening to. We just get in the studio and play. Someone brought a Thin Lizzy riff in and then that spun around in our heads for awhile but we all listen to really different music. Some of us like Thom Yorke's Eraser or OK Computer and then some of us might be listening to the Beach Boys' Pet Sounds.
All of sudden there was a knock at the door. The conversation halted and all eyes rested on the door as it swung open and Chicago rock beat poet Thax Douglas entered, carrying his usual black and white canvas tote bag. Slings & Arrows manager showed concern but the band assured their manager that it was fine. Thax then reached into his bag and pulled out a spiral notebook with curled edges and handed it to the band..
Thax said, "Hey, guys…I wanted to run this poem by you before I perform it tonight."
S&A passed around the notepad, reading the poem, some of them mouthing it, others nodding their head and scratching their chins and then, eventually, they all wiped concerned grimaces from their faces and handed the tattered notebook back to Thax.
S&A said, "Looks fine, Thax! Yeah, sounds great! You gonna read it before the show?"
Thax nodded his head, yes, and placed his notebook back in his black tote bag, waved goodbye, shutting the door behind him.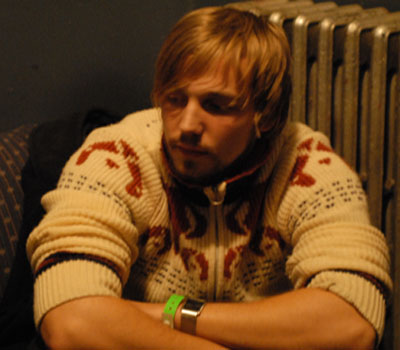 So I heard you guys have some labels coming tonight. Are you nervous?
Henry Brown: This is what we've been shooting for for awhile now. So having labels come to a show is something we're ready for and after playing some twenty shows we feel we're more than ready.
So if you had a choice, would you like to play live more or record albums?
Henry Brown: We love to play live. The interaction with the fans is something we love and look forward to but we really want to be a recording band and make albums. We want to create albums that people can get lost in.
You guys released your Animal Grammar EP last year and now you're working on a full length.
Henry Brown: We put those EP songs together quickly so people could start to get a listen of who we are. This next record we want to again make ourselves in our own studio but since we're doing it all ourselves it takes longer than usual, being on a label would really speed that up.
So Thax Douglas poetry gave way to Slings & Arrows and Henry Brown's upwards current of lyrical beckoning seemed to float and hypnotize the hipster maidens in the balcony. For a moment The Metro morphed into a modern Globe Theatre. S&A songs touch all parts of the sonic pallet; some are detached and drenched in angular anguish like "Birthday" and others like "Policeman" fire on all synth and rhythmic cylinders, charging into the depths of paranoia. But then there's the softer more delicately drifting tune "Mockingbird" which first summons and then tells about the beloved mp3 that perpetually spins in our heart's core.
Slings & Arrows is, as Brown mentioned, hungry to play live, eager to record and land on a label. You can catch them at upcoming Chicago area shows and hear what you should've heard during third period English besides your head hitting the desk.
---