Who I Am and What I Want
by David Shrigley
Chronicle Books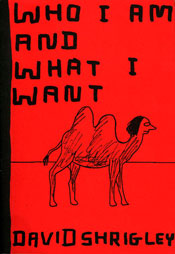 What a bizarre pocket-sized book. In today's world, however, it might just be the perfect thing.
David Shrigley's Who I Am and What I Want is the story of a man named Pete. Written as a "firsthand" account, the pages of the book talk of Pete's life adventures thus far and the obstacles that have been hurdled at him (i.e. depression, heavy drinking and mental illness) The story is accompanied by Shrigley's drawings– drawings that somewhat remind you of the doodles you used to draw in your notebooks.
Perhaps the best part of the book is the introduction that simply is a small note to the reader from Pete, reminding them that the subject of the book is solely about himself and no one else. With a bit of wit (and a lot of scribbled out sections), the reader is thrown into Pete's world– his life and his wants.
The book is a bit chaotic; everything jumps, sometimes with no warning. However, it may be (oddly) a great representation of life. After all, life isn't perfect. These are scribbled words and diary notes of the people we are and the people we want to be.