Factory Records: The Complete Graphic Album
by Matthew Robertson
Chronicle Books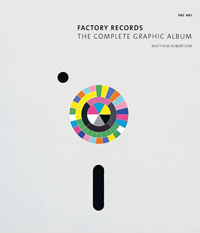 Factory Records … would it be too much of a truism to say that this is unlike any record catalog you will ever see? The Complete Graphic album is more akin to an exhibition catalog or the monumental and eclectic tome that chronicles the Whitney Biennial every year, but light years more maverick, honest and with a more unified vision. Sensitively compiled by UK-based designer Matthew Robertson, this graphic album imparts the same stately dignity and stern mystique to the graphics arm of Factory Records that the early Peter Saville sleeves imparted to Joy Division. In that respect, I guess, the circle is complete. I suppose we should start at the beginning, which takes us to the beginning of the book, Fac 1.
Factory Records was founded by aesthetic enthusiasts and entrepreneurs Tony Wilson, Alan Erasmus and Rob Gretton, as punk dawned and the Sex Pistols crashed (and burned) into Manchester, motivating seemingly half the youth in the city to pick up guitars the very next day. These three gents, however, were galvanized in a slightly different manner, instead putting on shows promoting this new, primal music and eventually starting a label. It was to publicize one of these early shows that the initial Factory nucleus approached design student Peter Saville to make a flyer for the event. And though Saville famously (in a scene immortalized by 24-Hour Party People) didn't get the flyer done until the day after the gig, the dye was cast.
Wowed by Saville's stately graphics, minimalist design and historically referential use of typography, he was brought on board and would come to define both the look of Factory records and, indeed visual cues for whole genres of underground music – punk, postpunk, baggy, indie – for decades to come. As suits all beginnings, this flyer, at Saville's insistence, was christened Fac 1. That this flyer was counted as Fac 1, instead of the first recorded output, a double-sided 7-inch featuring Joy Division, Durutti Column and others (Fac 2), speaks volumes about a healthy disregard for convention and seriousness that early Factory cultivated. Indeed, the quixotic Factory numbering system became a work of dadaist art in its own right. Sure, the Factory catalog (Fac 1-372) contains records – hundreds of records, many fated to be timeless classics – but also included as official Factory releases (by default and design) were ephemera ranging from the sublime to the ridiculous – posters, the annual Factory Christmas card, Rob Gretton's dental bill, stationery … hell, the Hacienda nightclub is Fac 51.
Divorced from the music, the sleeves take on a context of their own, as maverick experiments in typography, collage and compact lessons on the history of graphic design. The sleeves developed by Peter Saville Associates were more akin to stern, stately monuments than mere listings of credits and band photographs – lending bands like Joy Division, New Order and A Certain Ratio a whole new form of portent and immortality. Alongside Saville, successive designers like Central Station Design and 8VO added whole new visual languages to the Factory lexicon, experimenting with lurid colors, new typography and treated photographs. As Saville restricted his attentions more and more to New Order, it was left to these new young guns to seize the zeitgeist for the UK's acid-dance explosion, aka "baggy" and Madchester. The sleeves to, say, Joy Division's Closer and the Happy Mondays' Bummed could not be any more different but are irrevocably joined by a certain rebel fearlessness and fierce commitment to creativity. The spirit of Factory is one that's sorely missed in the music industry today. You'll see. It's all in these pages.
Chronicle Books: http://www.chroniclebooks.com
---