The Horrors
Vocalist Faris Badwan
Jen Cray
The Horrors are a skinny, gothly clad bunch who are living inside of a late night radio flashback to the alternative side of the '70s and '80s- and don't we all want to slip into that dark little world once again?! The London band have somehow found the missing link between The Stooges, The Doors, and The Cramps and instead of sounding retro it sounds sloppy enough to be authentically fresh. Frontman Faris Badwan answered a few questions for me through email.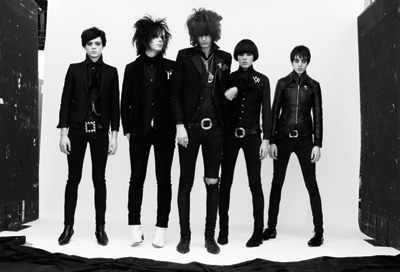 Let's start off with some basics, since I can't see who I'm talking to- paint me a picture. Where in the world are you right now? What are you wearing? What's the last thing you ate or drank before sitting down to indulge me with some virtual Q & A?
I'm in Stoke, at the Sugarmill. I'm wearing an apron and some leather gloves. I ate a miniature baguette.
Your band is hard to pin down to one genre- which is a great thing- but I imagine it must make it difficult for your label to market you and pair you up with other bands for tours. What's the strangest bill you've ended up on?
We don't get told who to tour with, we've always been allowed to choose. We played with a band called Tits of Death once, which was interesting.
Who would it blow your mind to do a tour with?
The Fall.
You open your debut album with an explosive cover of Screaming Lord Sutch's "Jack The Ripper," a song also adapted by The White Stripes. It's a bold choice as the introductory song. Why choose this particular song, and why have it in the leadoff spot?
Our version is split into slow and fast sections so it made for a good introductory song. It was our live opener for a long time as well.
Was "Sheena Is A Parasite" your first video? To work with such a well respected director (Chris Cunningham) so early in your career is impressive. What was that experience like?
Chris is extremely driven and focussed in what he wants to achieve and in that respect our ways of working are very similar.
You obviously put a lot of thought into not only the music, but the visual aspect of your band. Are any of you visual artists in any way?
Josh makes origami swans.
In doing my research I found a lot of negative press surrounding you guys, which is curious for such a new band. It usually takes critics and fans at least an album or two before they turn their backs on a band. What about The Horrors provokes such an extreme reaction in people?
I don't think anyone has turned their backs on us, that would indicate dismissal. I think even when people dislike us they are usually fairly active in making their views known, taking time or column inches to express their anger. We naturally find it amusing when a band like the Twang use their first ever NME appearance to attempt to badmouth us.
You've got an upcoming American tour with Black Rebel Motorcycle Club. Do you plan on blowing them off the stage every night?
Large fans and wind tunnels have been loaded onto our tourbus for this very purpose.
Now for some basics: First concert.
I can't remember.
Best concert.
Hard to say. Maybe Xerox Teens or the Guillotines. Death from Above 1979's first UK show sticks in my mind.
Band you wish you could have seen play.
The Gruesomes in 1985
Last cd you listened to.
Wire – Chairs Missing
Favorite film.
Midnight Cowboy
That's all I've got for ya. Thanks so much for your time. The album blows my mind- I fucking love it! Can't wait to see you play live and meet you face to face.
Thanks.
---