Arctic Monkeys
Be Your Own Pet
Orlando, Fl • May 20, 2007
Jen Cray
Oasis formulated themselves off of The Beatles and now that the Gallagher brothers have all but disappeared from the music world, their successors- the Oasis by way of The Libertines- Arctic Monkeys are poised to take their crown.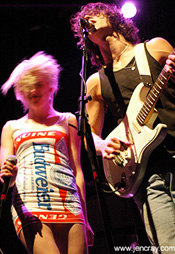 A large percentage of America may not know it yet ("Who is this band?" a bartender inside the Hard Rock Live asked me), but the Monkeys have already conquered their native England and are setting their sights on our shores. With Orlando being not only a music scene boiling over with indie-minded fans, but also the vacation destination for jolly ol' UK tourists, it was no shock tha the show was a sell out.
Nashville's answer to Bikini Kill, Be Your Own Pet, surprised an audience that didn't seem to know what to expect from the opening band. What we were treated to was sort of a middle school version of Yeah Yeah Yeahs.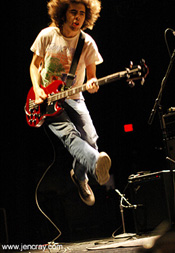 Frontwoman Jemina Pearl swung her long blond hair and strutted the stage in a skin tight Budweiser dress, recalling the spirit of Karen O, while her band of boys kept the noise pop punk energy at top level. With songs that were shorter than short, they were able to plow through most of their debut full length, which by the way was released on Thurston Moore's Ecstatic Peace label- this should give this young band some serious bragging rights! After just a 30-minute peek into the world of BYOP, I can say that I'll be sure to get my hands on a copy of that disc!
Killing time between bands at the Hard Rock Live is time best spent upstairs in the Lennon Room. The exclusive white room has got Elton John's piano- with each key signed by a different musician (Stevie Wonder's signature is a thumb print!), John Lennon's wicker couch and an entrance out onto a secluded balcony that overlooks Universal Citywalk. I sat up there with a beer enjoying the quiet, while downstairs 3,000 people all ran for the bathrooms before the headliner's set.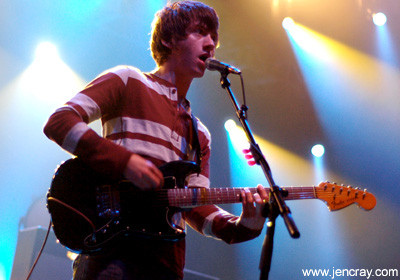 Arctic Monkeys fans, especially the visiting passport-holding ones, were nearly pissing themselves with anticipation chanting the band's name until the lights finally dimmed. When the men of the hour made their appearance it was to a deafening roar from the audience behind me.
For those who have never actually heard this band, their music is tasty upon the first listen, but really grows into a great meal after several dinings. It may remind you of bands that you've already heard and loved (Franz Ferdinand, The Libertines) and so may sound like just another dance rock band, but dig in deeper and allow the subtle genius to germinate.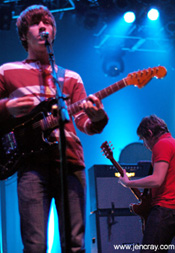 The band's debut album Whatever People Say I Am, That's What I'm Not was one of the best pieces of music put out last year, and their followup sounds damn promising from what I heard live (I haven't got a copy yet, so I can't say for certain).
Like Snow Patrol, Coldplay and Keane, this band can be a bit dull to watch, yet sound as if they have spent years rehearsing and perfecting these songs! They've got the smoke and mirrors of a jacked-up light show, which seems to serve as a dynamic counterbalance to their otherwise static state, but it doesn't make them as vibrant as I had hoped they would be. Still, they are a band to see live before they get any bigger and end up tiny specks on the horizon that you're viewing through binoculars and cursing yourself for not having seen sooner.
To see more photos of this show, and others, go to [www.jencray.com](http://www.jencray.com/bands_live.htm).
---