Tango for a Torturer
by Daniel Chavarria
Akashic Books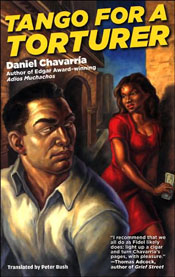 Don't let the blinding sun of the tropics nor the Caribbean's turquoise depths fool you. Set in the sizzling capital of Cuba, Tango for a Torturer is classic, sexy noir spun from the political and personal intrigues of Latin America. Daniel Chavarria, an Havana-based novelist from Uruguay, conjures this love-and-revenge story against a palm-framed backdrop peopled by prostitutes, voodoo priests, tourists on their worst behavior, and a villain who would have made a good bowling buddy for Augusto Pinochet.
At the center of this pulp fiction loiters Bini, the mulata whore with a heart of gold and ties to an underworld of primitive divination. An enemy of chickens but a friend to any man with a bank roll, this woman-child vixen couples full-grown voluptuousness with the emotional maturity of a 10-year-old. Through her random, everyday hustle, Bini meets and becomes the painted savior of protagonist Aldo Bianchi, a vacationing Argentine expat in a full-swing mid-life crisis and long overdue for some sexual healing. After she helps him reclaim his physical passion again and uh, again (in detail that never taxes the reader's imagination), her duties go beyond the bedroom when together they settle past scores with the monster who robbed him of his manhood in the first place.
After hunting his torturer "Captain Horror," a Uruguayan military interrogator, for the past 22 years, Aldo exploits a bizarre series of coincidences and his own scheming to flush the prey, now alias "Alberto Ríos," from his swanky Cuban hideout. Fortunately for Aldo, Bini, despite her profession, is endowed with a blood-drawing sense of justice, perhaps inherited from her war vet father, who was off fighting for Castro while she grew up in the barrios of Havana. When Aldo reveals to her a stomach-turning tale of the horror inflicted upon him by Alberto, another of her clients, Bini employs nail-sharp street smarts and her Santeria goddess to snare this international war criminal.
In Tango for a Torturer, Chavarria takes the opportunity to cover many bases, molding each character into a platform for a theme, including those related to ideology (Alberto: a biologically-mandated cruelty), psychology (Aldo: a torture victim's sexual pathologies), and religion (defense laywer, Azua: the metaphysical potential of spiritual belief). With Aurelia, a close friend of Aldo and a preeminent psychiatrist, Chavarria creates an opposing voice to Aldo's love for a street whore and more implicitly, a feminist counter to the idea of the prostitute as heroine. In arguments between Aurelia and Aldo, Chavarria wrestles with the moral ambiguity of Bini, trying to pacify those who condemn her for slipping on her stilettos and clacking back across the bridge of sexual equality. No doubt progressive-minded readers will bristle at the state of gender relations in this book. Within the machismo-dominated culture presented, the highest compliment a woman can earn depends on how many times she can make her partner climax. And for the sake of your lunch, I'd suggest skipping some of the ways women are treated when love is not involved (unless you enjoyed those scenes in Ellis's American Psycho).
Chavarria strives to give Bini dimensionality, portraying her as an orphan of a mother's cruel neglect and a father who returned from the revolution to a hooker daughter and a country that fell far from the Red dream. A truant elbowed out of an untrustworthy system, Bini sets herself a part from the marginalized forgotten with a talent for arousing not only the most shriveled of male libidos but other forces beyond the rational via her Afro-Cuban mysticism. Bini's value doesn't stem from any intellectual ability but from her boiling sexuality, passion, childlike spontaneity and whimsy, as well as an eye-gouging adherence to the code of the streets. Angel in a mini-skirt to some, but a female praying mantis to those who cross her or anyone considered family, Bini is not about to pull a Mary Magdalene anytime soon.
Even with the sociopath Alberto, Chavarria inspires sympathy for this character. In fact, his portrayal is a chilling psychological autopsy of the beast behind the Interpol rap sheet. Alberto's charisma, gift for self-preservation, appetites (given his years) and the spit he reserves for the face of idealistic pretension make for a seductive villain, for whom you even might begin to sympathize. Perhaps, his character development might not haunt so much if we could erase the more atrocious chapters of Latin American history (as well as our own ongoing human rights controversy at Guantanamo Bay).
But no character in Tango for a Torturer is without sin. In fact the story's resolution wobbles precariously on one massive deceit. To the very end, Chavarria strategically embeds his narrative with dirty secrets and dark revelations, each assured to elicit a few shudders.
---