Ben Kweller
with Tim Fite
Orlando, Fl • Aug. 8, 2007
Jen Cray
No one thought that Ben Kweller would sell out The Social, not even The Social, who actually had to call in extra security to handle the packed house. It's not that Kweller's honey-dipped folk pop stylings aren't deserving of a full venue, but who knew Orlando had so many Kweller fans willing to come out on a hotter-than-hot Wednesday night.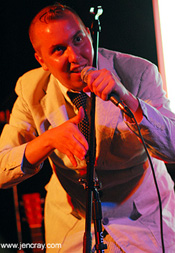 Kicking the evening off on a wonderfully quirky note was Brooklyn's Tim Fite. The comedically-tinged songster is a bit of a southern evangelist painted in hip hop and then handed an acoustic guitar. Not straight-up white boy rap like Sage Francis, but not as folksy as his clean appearance and instrument of choice would suggest, Fite is intriguing because of his ability to straddle the genre lines. While his boundary-busting may not have completely won over my ears, his heartfelt attempts at crowd inclusion (he led everyone through an eye exam, using a screen behind him) did win some brownie points with me.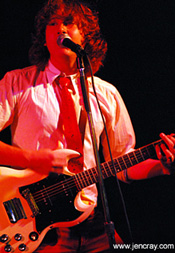 Ben Kweller is one of those child prodigies who has been making music since he was itty bitty. The Texas-born singer/songwriter has been at it, in the industry, since the early Nineties when he was barely out of middle school and in Radish. Yet a lot of you have probably never heard of him. Though he's collaborated with some fairly big names in the indie rock field (Evan Dando, Ben Folds, Ben Lee) and co-headlined a tour with the mighty Death Cab For Cutie, the young pop star has kept a low profile, unlike some other child prodigies I could name (cough-Bright Eyes-_cough_).
With a bassist (Chris Morrissey) and drummer (Mark Stepro) holding down the fort, Kweller jumped between piano and guitar as the room curled up around the intimate stage. Opening with "Run," the first song on his third self-titled solo release, Kweller reeled in the audience not just with his sweet Pavement-on-piano inspired tunes, but also with his casual air and candid conversation on the mic. How candid? Well, I know that he and his poor bandmates traveled several hours with no AC in their van to make the gig. "If anyone in the audience knows how to fix the air conditioner on a Chevy van, please see me after the show."
I can't say if he found a mechanic at his Orlando stop, but he did secure a fan or two – especially after playing the fun, Beach Boys bouncy "I Gotta Move." The three minutes that make up that sweet little tune would win over anyone!
To see more photos of this, and other, shows go to [www.jencray.com](http://www.jencray.com/bands_live.htm).
Ben Kweller: http://www.benkweller.com ◼
---