You're Gonna Miss Me
directed by Keven McAlester
starring Roky Erikson
Palm Pictures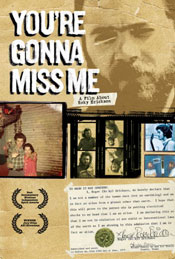 You're Gonna Miss Me is a sympathetic look at the history of cult rocker Roky Erikson, one that clears up some of the mysteries and misconceptions that have swirled around the enigmatic singer/songwriter. Roky sang for '60s Texas psychedelic band the 13th Floor Elevators, and probably had mental problems from the beginning. A steady diet of LSD and a long stint in a notorious Texas psychiatric hospital as part of a plea bargain for pot possession probably didn't help. After his release Roky put out some just plain awesome rock music with his band the Aliens, which was mostly based on his steady diet of old horror and sci-fi movies.
The movie is bookended by a court case to determine who exactly will be responsible for Roky, his mother or his brother. Roky has been under the guardianship of his mother for years, but lately mom hasn't been keeping Roky on his meds, taking him to the doctor or allowing visitors.
At times reminiscent of Crumb and The Devil and Daniel Johnston, You're Gonna Miss Me deals with Roky's art and the effects of his mental illness on his family as well as the influence of his family on him. As with Crumb while watching the movie, you realize that perhaps Roky isn't the only mentally ill person in the family. Unlike The Devil and Daniel Johnston, Roky doesn't seem to be as exploited by fans and manager types by the romanticism of "putting the crazy guy on the stage," who then wonder why the crazy guy flipped out.
In between speculation on Roky's mental state and the family strain over the custody battle are clips of Roky performing, vividly showing why Roky has had such a fanbase for so many years. Starting out with black and white clips of the 13th Floor Elevators on "American Bandstand" that show what a huge influence they were on the emerging San Francisco psychedelic scene, especially Big Brother and the Holding Company, Roky seems childlike and lumbering until playing music. There is a great scene towards the end of the film when Roky is urged into playing, and he picks up an acoustic guitar and seemingly effortlessly plays an achingly beautiful song. You're Gonna Miss Me will be riveting to Roky Erikson fans, especially with the many performance extras on the disc. Viewers without any knowledge of the subject will also be entranced by this unflinching look at an artist and his struggles with mental illness.
Palm Pictures: http://www.palmpictures.com
---