Brush Strokes With Greatness: The Life and Art of Joe Sinnott
by Tim Lasiula
TwoMorrows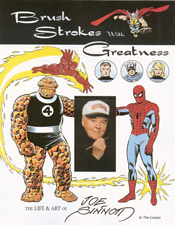 Anyone from the hardcore comics fan to the casual reader of Michael Chabon's Adventures of Kavalier and Clay can tell you that the world of funnybooks can be a dirty business. It's certainly no place for a consummate craftsman and professional like, say, Joe Sinnott, a gentlemanly Bing Crosby fan and team player known more for embellishing the work of others than hogging the spotlight for himself. Right? Wrong-o, buddsy. Although the days of gangster publishers is long past, in these times of diva writers and supposedly superstar artists gumming up the works and seeming genetically unable to meet a deadline, maybe the industry needs a phalanx of Joe Sinnots. Deep down Marvel (the company that Sinnott spent several decades inking for) knows it; even though the eighty year-old Sinnott headed off to a well-deserved retirement in the early '90s to work on his sketchbooks and teach, Marvel still pulled him back in for inking duties on the syndicated Spider-Man Sunday comic strip, y'know, the one written by Stan Lee? When you need a professional, you call a professional.
When thinking of the creators who built (and whose legacy still completely supports the multimedia licensing giant) the foundation of the Marvel Universe, some names readily spring to mind: Jack Kirby, Jim Steranko, John Romita Sr., the Buscema brothers. If you know any of these names then you're already intimately acquainted with the work of Joe Sinnott and you may not even know it yet. Most of these men offer fulsome tributes to the man in these pages. And well they should – anyone who can take the work of Kirby and Steranko and make it look better, leaner, tighter… damn…
I'll take it one further. Joe Sinnott (an inker, mind you), alongside John Buscema and John Romita Sr., virtually defined the house style at Marvel Comics from the '70s through the '80s. Don't believe me? Take a gander at the sketchbook pages of Sinnott renderings of classic Marvel characters and all the inked original art that Twomorrows always digs up and you'll be like, "Wait, that's… But I… Ohhhhh." At least that's what went through my mind. He advocated a clean, streamlined, unfussy style that was very draftman-like (he did work in advertising) and somehow believable (in spite of all the clearly fantastic concepts he was fleshing out in his tenure). "Joltin' Joe" played up the strengths of the artist (and the characters) and smoothed out rough edges – for instance check out the infamous Jack Kirby fingers during his Marvel run and then again on a Sinnott-less Kirby New Gods. Yep, thought so.
Though a talented artist – as his sketchbooks, full of evocative pre-Silver Age war, cowboy art, a fantastic series of historical comics and THAT famous Evel Knievel ad that you must have seen if you own even one comic book from the 1960s, attest to – he consciously took the supporting role, chose to be the Malcolm Young to Jack Kirby or Steranko's Angus Young. But as we all know, AC/DC doesn't fucking rock until Malcolm's rhythm guitar kicks in.
Where his inking truly took flight and cemented his legend – and most of the tributes offered here by industry legends constantly refer back to this – was his incredibly long and fruitful run on Fantastic Four backing up Jack "King" Kirby for an astonishing run from FF 44 to 102, an inconceivable length by today's standards. hell, any day's standards in the fickle comics industry. But there they went, and Sinnott ably backed and embellished Kirby as he expanded the FF mythos to infinity and beyond – Galactus, Silver Surfer, the Inhumans, the Kree, the Negative Zone – and was able to help communicate Kirby's absolutely epic vision and ground it in kinetic visuals. The crackling energy spheres and the "Kirby squiggle" are often pointed out. And after Kirby acrimoniously left Marvel after 102, Sinnott stayed on to help the new kids (John Buscema, John Byrne, George Perez) and make sure they got used to the big shoes Kirby left behind. Where other silver age Marvel creators left or fell by the wayside, Sinnott stayed on, weathering all changes and industry trends with his inimitable style proving his calling card and safety net – editors realized what a good thing they had – a man who didn't miss a single deadline, who was able to take on a ridiculous workload and who could be counted on to give the "Sinnott touch" to young artists otherwise struggling. Thus you can see Sinnott's work on an ungodly variety of Marvel titles. My personal favorite is the Kirby-esque flourishes he gave to Ron Frenz's late '80s Thor run – itself purposely a throwback to the high adventure and grand conceptualizing of '60s Lee/Kirby. Examples are, of course, included herein.
You don't often use the word "subtle" when speaking of the splashy renderings of the spandex-clad legions jumping off the four-color page, but when you're looking at the life and work of the quiet, Bing Crosby-worshipping (check out his fan-club exclusive sleeves) company man, always ready to offer advice or encouragement – that's one of two words that come to mind, the other is "legend." May there always be a brush in your hand, sir.
TwoMorrows: http://www.twomorrows.com