Summerbirds In The Cellar
Look Mexico, Aaron Marsh (of Copeland), Young Widows
Backbooth, Orlando, Fl • Oct. 26, 2007
Jen Cray
Summerbirds In the Cellar have developed such a large Orlando following that the cd release party for their long-awaited sophomore disc, Druids, demanded not one but two shows. Both were on the same night, and both at the same venue- Backbooth. Interesting side note, this great little bar once found SITC vocalist/guitarist Brad Register on the other side of the counter, slingin' drinks.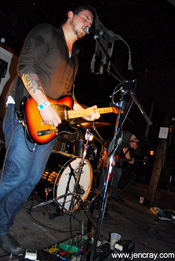 Thanks to my day job, which calls for a horrifically early alarm clock buzz, I was forced to pop in on the early show which included Look Mexico, Aaron Marsh (of Copeland) and Young Widows on the bill.
Oddly displaced on a bill otherwise layered with mellow southern-tinged indie rock, Kentucky's Young Widows offered an onslaught of moody, noise rock- and the crowd wasn't buying. While the early arrivals kept to their barstools, this brutal trio blew through their obvious annoyance with the early set time (they had been told, last minute, that they'd be not only playing the early show, but opening up the night at a still daylit 6pm) and it was beautiful anger. Vocalist/guitarist Evan Patterson used to be a member of hardcore outfit Black Cross, and has carried on the aggression in Young Widows.
Sounding like a crossbreed of Helmet, Sonic Youth and Thrice- I was totally digging these guys and hating the fact that I seemed to be the only one. Maybe they'll have better luck this weekend when they play The Fest in Gainesville.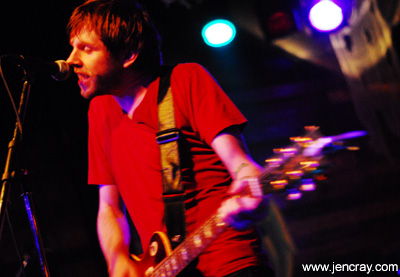 Aaron Marsh is the lead singer/guitarist/keyboardist for Copeland, and during his downtime he's become quite the little producer for local acts. He worked on the new Summerbirds disc, free of charge, and so guranteed himself a spot in the night's lineup. Marsh's solo work sounds like acoustic Copeland, and his short set even includes some of his day band's music. He's mellow and unassuming, a kid who probably grew up listening to his mom's Beatles albums before discovering 80's and 90's alternative (R.E.M., Mazzy Star, The Cranberries), and sweeter than sweet. He speaks highly of all of the band's on the evening's bill, and offers extra praise for the headliners.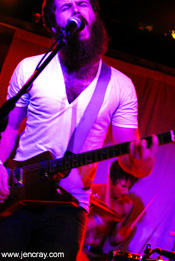 A local favorite, Look Mexico, were the first band of the night to get people off their asses and closer to the stage. Their down home alt-country is in the same battlefields of their friends Band Marino, and we know how much Orlando loves those guys! I wasn't personally feeling it, but my thoughts were most definitely in the minority. They do put on a good show, I will say that, it's just not the frequency I tune in to.
Sucking down energy drinks before his band's first set of the night, guitarist/keyboardist Curtis Brown confesses how odd it is for Summerbirds to be playing before the moon has made its way out. The desire to play to as many of their fans as possible overruled the band's usual late night hours, "We wanted everyone to be able to make it out."
The band, a trio at present- having recently downgraded to just one drummer- set up within the darkly moody stage. A strategically placed white spotlight sat at the foot of frontman Brad Register, and throughout the band's performance an occassional burst of white hot light would flare, but other than that, the band was nestled in darkness.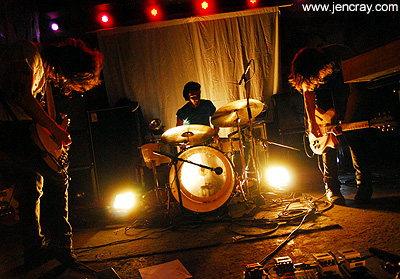 They didn't seem quite awake, and I'm willing to bet that their later performance was more in keeping with the jaw-dropping shows I've been accustomed to seeing them give, but even at their most sleepy the Summerbirds in the Cellar still blow most other bands out of the water! There was, however, a huge gap missing with the absence of second drummer Yardley, who has left the band to pursue his career in graphic design.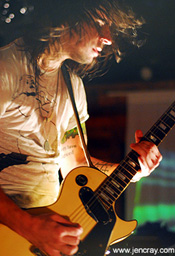 Opening with one of the sexiest songs ever, the band had me at the opening chords of "Sunlight Sickness, Electric Night." A set that featured the key tracks off of their first album With the Hands of the Hunter It All Becomes Dead, as well as new nuggets that will soon be heavily featured on every Orlando-ite's ipod ("Fake Angel Skin,""How We Are Ugly Inside"), ended with the always show stopping "Behold The Wolf."
Behold Orlando's greatest export.
To see more photos of this show, and others, go to [www.jencray.com](http://www.jencray.com/bands_live.htm)
---