Robbers on High Street
Great Northern, Dish
The Social, Orlando, Fl • Oct. 28, 2007
Jen Cray
The main street downtown was blocked off, cops patrolled the area and traffic was slowed as passers-by gawked at the crowd on Orange Ave. – inside of which whirled a vicious girl fight. It's just the sort of chaos I'd expect when making my way, on an otherwise peaceful and rainy Sunday evening, to the Robbers on High Street/Great Northern show at The Social. Mellow indie rock and bitch slapping really go together nicely.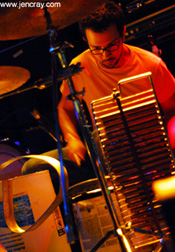 Once the surreality of the outside world was extinguished and I was safely inside the confines of my favorite local venue, all was well with the world again.
Starting the night off was Dish, a local duo who were overjoyed to get their first shot on The Social's stage. "We've been wanting to play here for 4 years!" they confessed. What started off as a crisp but quiet sleepfest- complete with xylophone- quickly turned into a pounding outburst of dynamicism that bore shades of Nirvana, had Nirvana gotten away from grunge and more into indie rock. The drummer beat on an upturned bucket, bits of metal and whatever else he could get his sticks on- it was fantastic!
A band like Great Northern could easily be one of those great to listen to/boring to see_bands, and I was sort of expecting that to be the case. Their debut album, _Trading Twilight for Daylight was one of this past year's quiet moments of dreamy pop brilliance, taking me back to the alternative beginnings of The Sundays, Till Tuesday, and Mazzy Star. Their dimly lit stage was set with red and white lights and fake black crows, and with just that the foursome from L.A. easily created a dreamy atmosphere that we all sunk into for the next 30 minutes.
Rachel Stolte (whose ear caressing voice is a ringer for Aimee Mann) and Solon Bixler (the original second guitarist for 30 Seconds to Mars, and ex-member of Earlimart) trade off lead vocal duties and it's largely their sweet and salty presence that keep the structure of Great Northern awake. "Just a Dream" and "Home" absolutely glisten live.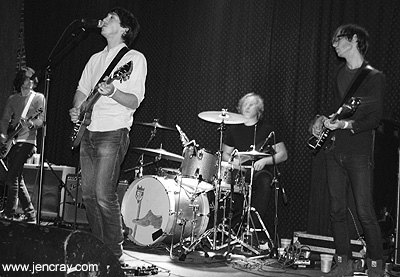 The equally enchanting sounds of New York's Robbers on High Street didn't quite carry over as strongly in person. Sure, they sounded great- and I was happy to hear "Across Your Knee" and "Married Young," but they didn't offer much energy onstage. No mood was created, there was nothing pulling me in. A band as fun as this, with as many irresistible pop songs, should have been a bit more inviting in person. Their music has always reminded me of The Redwalls- who play like they're having the time of their lives, and I guess I was sort of expecting those ear to ear smiles and swinging hips. Really- their music deserves to come alive in concert.
To see more photos of this show, and others, go to [www.jencray.com](http://www.jencray.com/bands_live.htm)
---