I Am the Avalanche
with Daggermouth, Sadaharu, Farewell
AKA Lounge, Orlando, Fl • Dec. 8, 2007
Jen Cray
On the weekend that the greatest rock band in the history of rock 'n roll made their glorious return to the world of music, I was nursing a beer at the AKA Lounge and wondering how – in the age of contemporary music – we went from Led Zeppelin to the slop I was witnessing on the stage before me.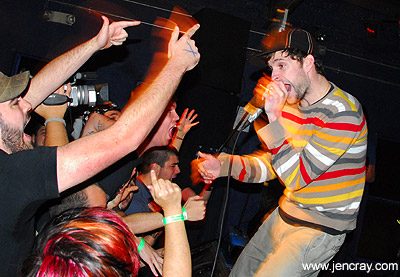 I Am the Avalanche were at the top of the sloppy bill, and though they were on the better side of the musical spectrum for the night, they were still far from inspiring. The handfuls of fans who crowded the stage and threw themselves at the singer and his outstretched mic may disagree with me, but I call 'em like I see 'em. This was not a good night for modern music.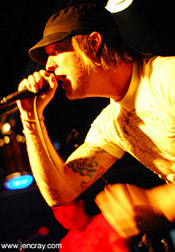 Epitaph's answer to Fall Out Boy opened the night. Farewell look and sound like Chicago's emo-centric boy band wonders, and – as would be expected – the floor in front of the stage quickly filled up with teenage girls with too much makeup and elaborate haircuts who sang along to every sugary dripping word that spewed from Marshall Davis' mouth. These guys jammed out a Green Day song during their sound check, and I have a sneaking suspicion that's as far back as their musical education may go. I have nothing against Green Day, but I do have something against a pop band posing as pop/punks who don't even know their own chosen genre's history.
The next band stepped out wearing matching camouflage t-shirts with their own band's logo emblazoned on them, sending my hopes for something better than the prior band plummeting. When Sadaharu's vocalist Jeff Briel – who wears his hair metal long, dons geek glasses on-stage, and sports a very 80's denim jacket – began by taunting the now-spread-out audience, I was intrigued. When the young crowd didn't budge at his urging to come closer to the stage, he hopped down into the audience and began leading people by the hands to where he wants them to stand.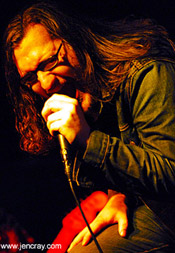 The music Sadaharu play is politically charged – though I can only understand one out of every ten words – and sung with an energy that is as much borrowed from post-hardcore bands as it is from the heavy metal world. Briel sucked down PBR and cigarettes during guitar solos, and seemed hell bent on making this young crowd feel something somewhat real. They were easily the best band on the bill, but admittedly, I'm grading on a curve.
Bands like Daggermouth confuse me. Hardcore music, hip hop attitude, a hint of pop/punk melody, and a horrible sense of "fashion" (they wear oversized, stiff-billed baseball caps) adds up to one ridiculous band. They were the crowd favorite – a pit quickly began to build – but I stood at a loss. Rap/rock went down in a cloud of laughter a decade ago, so what makes these hip-hop hardcore acts think that they're any different? They're combining the worst aspects of several different genres and thinking they'll blend together to form something new and exciting, when in fact, the result is obnoxious.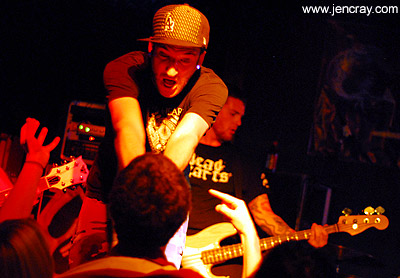 After the display brought forth by Daggermouth, I was ready to pack it up, but I really wanted to give I Am the Avalanche a chance to redeem this disappointing night of music. The hard-to-peg-to-one-genre band from Brooklyn are known for their impressive live shows, and that's what I had come to see. While the audience – which now included members of all of the opening acts – practically bowed down before the band on-stage, I was once again at a loss in my search for what the big deal about this band could be.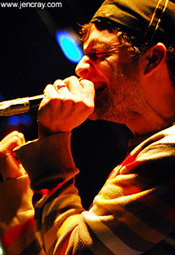 The result of the merging of two semi-known pop/punk acts (The Movielife and Further Seems Forever), IATA are nestled in between the poppier side of hardcore and the more progressive side of the new indie rock (think Sparta). On record they sound like a harder Against Me!, or funkier Lifetime, but on-stage they blended too easily into the backdrop just painted by Daggermouth. Maybe I had just given up hope at this point in the night, because I think that I could have gotten behind IATA's music had the previous acts really turned me on… but tonight, I just wanted to get out of the club and cleanse my bleeding ears.
To see more photos of this show, and others, go to [www.jencray.com](http://www.jencray.com/bands_live.htm)
I Am The Avalanche: http://www.myspace.com/iamtheavalanche ◼
---