Viva Cuba
directed by Juan Carlos Cremata Malberti
starring Jorgito Milo Avila, Malu Tarrau Broche
Film Movement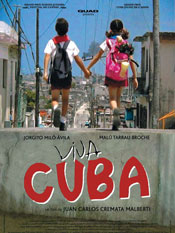 You rarely get a good look at Cuba from here in The States, but from what I hear it's a pretty island–never mind that old fossil of communism, Fidel. Malberti's Viva Cuba tells the unlikely story of a pair of nine-year-olds, Jorgito (Avila) and Malu (Broche). Deep in the throes of puppy love, they may be torn apart when Malu's mother (Larisa Vega Alamar) emigrates to a mysterious country which I doubt is Miami. She just needs a signature from her ex-hubby (Abel Rodriguez) to pack up Malu and leave, but he's slow when it comes to answering the mail. Malu and Jorgito can't bear to be apart, and they flee Havana to the easternmost tip of the island in search of Malu's father and the hope of a continued union.
While the story is improbable, the scenery is wonderful. No matter where we look, the sunsets are stunning, the populace happy, and our heroes never look rumpled or travel-worn. As the children move along, their estranged mothers make up and become friends but when all the families are in one place, they fall to fisticuffs and bitch-slapping, and the two children flee to the edge of the ocean. I thought they might jump, but instead a cloud of mist envelops them. I give their relationship five years, max.
Special features are limited to English or Spanish subtitles, a few trailers, a static biography of the director, and the very nice Claymation short, "My Cousin", by Adam Elliot. Viva Cuba is a puppy love fantasy with a maudlin moral, but still, I can't wait for Fidel to cash it in so I can take the tour.
Film Movement: http://www.filmmovement.com