Essex County Vol. 2: Ghost Stories
by Jeff Lemire
Top Shelf Productions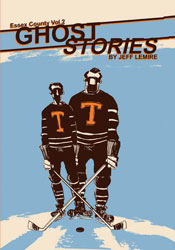 Ghost Stories is the second part in Jeff Lemire's series about life in a fictionalized version of Essex County, Ontario. This installment documents Lou's estrangement from his brother and family and his ultimate return to the family farm, only to find it empty. Yeah, it's pretty sad, but that seems to be the theme of life in Essex County.
Brothers Lou and Vince seem to have it all. They are fulfilling their dreams of playing hockey and may have a shot at going pro. But things change and people make mistakes. Time passes and age catches up with people. For Lou, that means injury and gradual hearing loss. Even more time passes, bringing tragedy and reconciliation and loneliness. But as if being deaf isn't bad enough, Lou begins losing his grip on time and he slips between memories and reality, forced to relive his sad choices that will eventually leave him lonely and frail. Lou becomes a ghost in his own life, a silent observer of past mistakes, unable to connect with anyone in the present. Wow, that does sound sad.
Lemire's artwork takes some getting used to, but the real magic takes place between the frames in the gutters. Time is traversed and bent, giving the reader a sense of how Lou feels: lost and slightly confused. But Lemire never totally abandons the reader and the story unfolds perfectly, like watching a great filmmaker splice together meta-flashbacks with action-packed hockey games. By the end, the disjointed events read as naturally as poetry and are equally as satisfying.
Ghost Stories celebrates everything quintessentially Canadian: beer, cold and dark winters, hockey, and Neko Case. Ok, so maybe Neko Case isn't exactly Canadian (or even mentioned in the story) but Lemire acknowledges her song "I Wish I Was the Moon" as a main source of inspiration in creating this tale. And what a testament to a great song; Ghost Stories is a perfect example of how a graphic novel can deliver a story in such a way that combines the best of traditional literature and film, transcending both in the process.
Top Shelf Comix: http://www.topshelfcomix.com
---