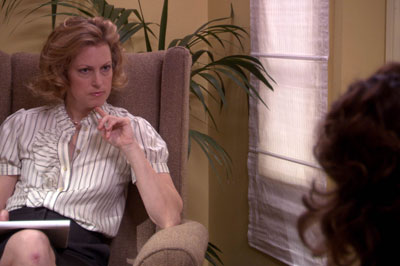 Head Case
directed by Jason Farrand
starring Alexandra Wentworth, Steve Landesberg, Michelle Arthur, and Rob Benedict
Starz Entertainment
Dr. Elizabeth Goode wades through her over-filled schedule of Hollywood celebrities with quirky panache, entertaining a cast of clients who, despite their personal weirdnesses, could really step aside and let the doctor take the sofa.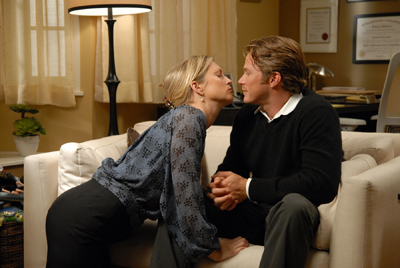 Played by writer/producer Alexandra Wentworth (Living it Up! with Ali & Jack, In Living Color, Hardball, and "Schmoopie" on Seinfeld), Dr. Goode is inarguably the show's star, doling out opinions like prescriptions and sporting neuroses like they're normal. Set up against a patient list that reads like film credits, with couch appearances by Andy Dick, Ione Skye, Jonathan Silverman, David Allen Grier, and Monica Potter among others, Goode holds her own, taking them all on with more humor than grace.
A particularly funny episode finds Ahmet ("like vomit") Zappa on his back as the result of Goode's misguided trust exercise, a self-serving position she explains is not so much "for me, the therapist, but for me, the American," and features Greg Grunberg (Heroes) disclosing his Internet-worthy sexual freakiness, all before Goode's meet-the-parents dinner with her shallow talent-agent boyfriend, convincingly played by Rob Benedict.
Rounding out the office are Dr. Myron Finkelstein (Landesberg), a fellow psychotherapist with more problems than ex-wives and more ex-wives than patients, and Lola Buckingham (Arthur), the down-to-earth, hamburger-loving receptionist who is up for whatever it takes to keep the office running smoothly, whether that means squeezing in a patient or two or stepping up to the plate as Goode's pinch-hitter when shenanigans leave the office without a doctor.
While celebrities and their problems, some too ridiculous to be scripted, are certainly attention-getters, it's the intertwining of normal and nutty that keeps me coming back to this exceptionally well-written, intelligent comedy.
Starz http://www.starz.com
Head Case http://www.goodetherapy.com
---