Mel Lewis and His Big Band
View Video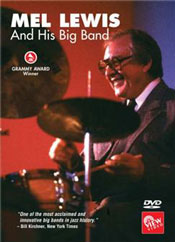 The process by which this DVD found itself into the author's hands was both lengthy and circuitous, but the end result–watching it–proved entirely worth every effort expended. Mel Lewis led one of the most consistently competent bands in jazz history, one that was instrumental (pun intended) in sustaining the style through its leanest commercial years, and technology has afforded them a fresh look.
My first experience with the work of Mel Lewis was on a compilation of Gerry Mulligan tracks for Verve, recorded in the 1950s and later released in the '80s as part of that first wave of CD reissues of "classic" jazz music which lasted through about 1993, followed by a dramatic improvement of sound quality and packaging that has continued well into the new century. Although he played on tons of records in a career that lasted 50 years, Lewis never stood out from the crowd. Apparently he didn't want to. Lewis' rep then was as a solid, reliable time-keeper who didn't get in the way of the soloists, but lacked the commercial appeal of the other, more charismatic drummers ranging from Krupa and Rich and Shelly Manne to Max Roach and Elvin Jones. He was grouped with guys like Stan Levey and Shadow Wilson.
Among his generation of drummers, Lewis (1929-1990) may have benefited most from the second wave of that reissue boom. It was then that his seminal work as co-leader of the Thad Jones-Mel Lewis Orchestra was introduced to jazz fans too young to have bought the stuff on the first-press vinyl, which is about all there was. Jones–eldest of his brothers, including Hank and Elvin–and Lewis founded the group in the late 1960s and ran it together until Jones left in 1978, after which Lewis ran it until he died. It remains alive today as the Vanguard Jazz Orchestra, named after the Village Vanguard, where the group has played regular Monday-night dates since the 1970s.
Mel Lewis and His Big Band was taped in 1986, not long after the loss of Jones put Lewis into the spotlight as a band leader for the first time in his long career. It was originally released as Mel Lewis in Jerusalem, which is a far more effective title since there is little, if any, jazz released under that name.
Comparing this disc, for example, to the two Buddy Rich DVDs taped the same year and reissued in 2006, is to witness two extremely different, yet equally effective approaches to swinging a big band from the drum position. Both are veterans, played with many of the same people, and in their later years utilized a lot of young talent in their groups. But whereas Rich led from the front, driving himself ahead and forcing the horns, etc. to keep pace, Lewis' playing tends mostly to modulate between inconspicuous and unobtrusive. It's a very clean, gentlemanly style. In retrospect, Lewis' methods may be the closest indication of what Dave Tough might have lived to do, outside perhaps of Tough's fellow Chicagoan, George Wettling.
At 38 minutes, any DVD would have to be pretty good to be worth $20, and this one certainly is. It helps that the set is packaged and presented smartly; it can be watched from start to finish or song-by-song, and each song is indexed to the solos and ensemble passages. All this makes the efficiency of the unit easier to communicate to new viewers, many of whom are not only unfamiliar with Lewis, but may have no experience with big-band music of such sophistication in their radius. Of course, there is plenty of material available to interested parties–one thinks most immediately of groups led by Gerald Wilson, Bob Brookmeyer, Maria Schneider, Dave Holland, and Bill Holman, as well as an outstanding young 13-piece group led by one Jason Linder, whose Live At the Jazz Gallery won high marks among jazz critics in 2007–but it's not anything a normal person would be exposed to unless someone gave it to them.
The organization Lewis leads to Jerusalem numbers 18. The group is built around the rhythm section of Lewis, bassist Dennis Irwin, and pianist Phil Markowitz. The lead soloists are coming from the saxophone section, namely Gary Smulyan and the great Joe Lovano, who went on to become one of the boss tenor men of his generation and an adept leader of groups large and small. The real stars of the show are the horn arrangements, with echoes of Basie and Claude Thornhill, cool yet palpably hot.
The set opens in restrained fashion with "I'm Getting Sentimental Over You," before the pace picks up considerably with "Ding Dong Ding," giving full exposure to the tightness of Lewis' dynamic style and the horn arrangements. Singer Lynn Roberts jumps in with a lackluster vocal on "I Get a Kick Out of You" that, along with the ballad opener, are the only points that drag in the set.
What ultimately sells the disc is the scorching version of "The Little Pixie" that closes out the performance. It was the first song on the band's first record, taped at the Vanguard in 1967. Lewis' solo here was included on Legends of Jazz Drumming, Vol. 2, a VHS issued by DCI in the 1990s, and that's what started the ten-year quest that finally resulted in its full context. It's really the only serious solo available of the guy, but it truly hangs with anything any other drummer has ever recorded, and not with flash or bravado, but in what law-enforcement types call "command presence." It is a perfect microcosm of what makes Mel Lewis a legend, an alloy newly minted.
View: http://www.view.com
---