Vampire Weekend
Harlem Shakes
The Club at Firestone Orlando, FL • June 7, 2008
Phillip Haire
When I utter the words "Vampire Weekend" to most of my friends, they conjure up visions of me attending a sci-fi/horror-expo in a cape and fangs, but to the savvy sold-out crowd for Vampire Weekend's debut Florida show, the name correlated to a fresh new band that has been sweeping the indie scene since their debut release earlier this year. I was eager to see how one of my fave new records would translate live. Although "A Punk" has been rotating through college radio, Vampire Weekend is still considered an up-and-coming band. Perhaps that is why they postponed their original Florida dates (including the Langerado Festival), to perform on Saturday Night Live. Oh well, it's a prestige thing. The lads made good on a promise to return, and this night kicked it all off.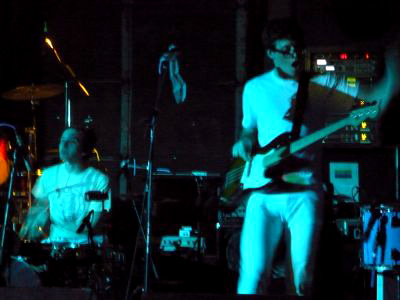 Joining them on this leg of the tour, fellow New Yorkers Harlem Shakes brought a similarly melodic pop/indie sound to the stage. The Brooklyn band settled in nicely, with a tight set from their Burning Birthdays EP. The Shakes off-time, disconnected beats and rhythms resonated well and demonstrated their musicianship. Lead singer Lexy and drummer Brent kept this groove together in the highlight tracks "Sicko" and "Carpetbagger."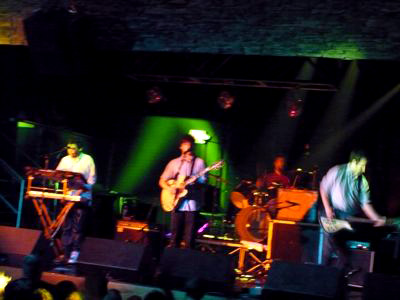 As Harlem Shakes closed out their set, I realized tonight's show (and my review), would not require any complexities to complete it. No bitchin' light show, fog machines, or gimmickry – just show up and play. Vampire Weekend did just that. After a delay between bands, Vampire Weekend showed up and simply played all the material they had! The sound was great and was mostly a mirror-image of the recorded version. Singer/guitarist Ezra Koenig sounded spot-on with his vocals and signature jangle of his Gibson. Equally impressive were Rostam's accompanying vocals and keyboard work, which set the tone, harmony, and background effects for many of the songs. In contrast to the Shakes' style, Vampire Weekend, although melodic, maintains a much more cohesive and tight sound. I was pleased they kept this intact during the live performance. Sure, there was an occasional break for crowd reply on "One (Blake's Got a New Face)," and their one song you can pogo/dance to, "A Punk." Otherwise, the show went forward without fanfare.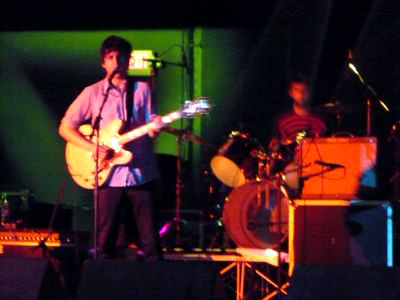 Ezra alluded to the band's excitement over being in Florida for the first time, particularly Orlando, on several occasions during the set. The sentiment seemed genuine and I believe he was asking for approval as much as making a statement. After a new, yet untitled song was played (one of the better songs of the night), Ezra stopped to explain they would be playing the entire record and there was no other material available. "We would like to play longer for you, but we're out of songs." Even more humorous, his statement they had been working on a couple cover songs but they weren't ready yet!?! Surely they could have belted out "Particle Man" (They Might Be Giants)! Hey, at least if you're lucky enough to check Vampire Weekend out live this early in their promising career you will get everything they have – literally.
And what they have is awesome, no doubt. In Ezra's final ode to Orlando, he paid homage to a band hero that hails from the Sunshine State, Tom Petty (yes, I was surprised, too). They proceeded to play "Walcott" and bid Orlando a fond farewell. Here's hoping their follow-up tour will include new original material and a Vampired-up rendition of "American Girl."
Vampire Weekend: http://vampireweekend.com ◼
---