Tad: Busted Circuits and Ringing Ears
MVD Visual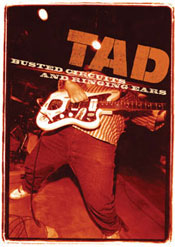 Was the world really clamoring for a full-length documentary on Tad? Especially when better-known contemporaries Mudhoney or Nirvana don't have a full-length documentary out yet? Probably not, but speaking for the world, we're really happy it's here. Busted Circuits follows Tad Doyle from his one-man Sub Pop single all the way up to the major label weaselry and drug problems that would ultimately end a decade-long band. Along the way, Tad (both the band and the man) was dedicated to creating the heaviest music known to man, all while dealing with bad decisions and poor luck – and heavy it was. One of the key originators of the "grunge" sound, Tad was able to extract the heaviness of metal and the energy of punk, creating a signature sound that was heavy enough to cause chest discomfort in audience members.
Notably absent from the documentary is any sort of bitterness or regret, even when talking about legal action from Pepsi, having their album recalled days after release due to a lawsuit over a non-cleared photo, or getting dropped by two major labels while on tour. In fact, all the band members interviewed look back on their careers with sort of bemused affection.
The only thing Busted Circuits could be faulted for is not having any information on what the band members did after the band dissolved. Other than that, Busted Circuits and Ringing Ears is both a primer of mistakes for bands to learn from (don't use semi-naughty pictures from thrift store photo albums as your album covers without getting permission first, don't have a 7" that implies that a certain soft drink can be mixed with Jack Daniels for an enjoyable drunk driving experience, don't sign off on a poster of the President holding a joint saying "that's heavy shit," among others) and a look into a relatively lesser known Sub Pop player.
MVD Visual: http://mvdb2b.com
---