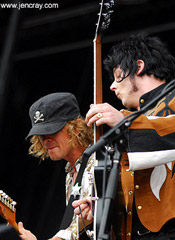 Bonnaroo
Pearl Jam, Metallica, The Raconteurs, Against Me, Rilo Kiley, The Swell Season, and more
Manchester, TN • June12-15, 2008
Jen Cray
In a summer where festivals are more prevalent than ever, Bonnaroo tries to stay atop the heap by piling the bill high with big name talent. Pearl Jam, Metallica, Kanye West, and Widespread Panic all shared large-font billing on what may have been the festival's most versatile year ever.
While the headliners made their marks on the big stages in front of the massive crowds, the smaller stages housed some of the weekend's most memorable moments.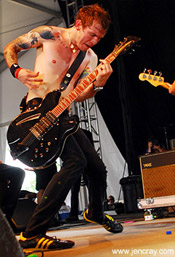 Stealing the show right out from under the big guys was Gainesville's own success story, Against Me. Bodies crammed their way in, around, and beside the tent that housed the Florida political punk band for an early Saturday afternoon set. The show that followed was far and above the greatest performance I've seen the band give (and I've seen many). Part of what made the show great is the strength of their latest batch of songs ("Trash Unreal," "Americans Abroad," and "Up the Cuts" to name a few), another part is the band's consistently tight delivery, but the band's secret ingredient is revealed in the large smiles on their faces. They may be singing about injustice, war, and political tyrants, but they radiate joy unlike any band I've ever seen.
By the time their set closed with "We Laugh At Danger (And Break All The Rules)," the wooden stage was slick and dark with sweat.
On the bodies of the 70,000 plus in attendance, sweat mingled with dust and then mud, after rain clouds broke open over the expansive farmland that served as festival grounds for this one long weekend in June. This meant that those concert goers who had previously shed most of their clothing – shoes included – in search of relief from the Tennessee sun were now caked with a gross mixture of mud and manure.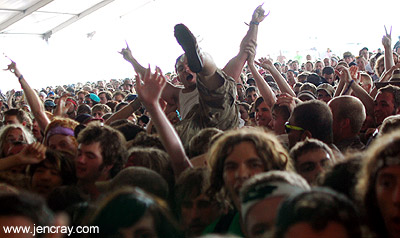 "Flip-flops… they're just not practical," comedienne Janeane Garofalo explained during her Friday set inside the air conditioned (!!!) big top circus tent. "I don't want to see your yellow toenails and fungus… would it kill you guys to clip once in a while?"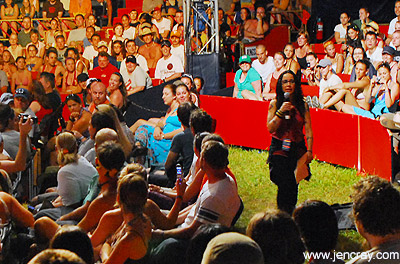 One person seemingly unaffected by the harsh elements of summertime was Rilo Kiley's Jenny Lewis. Appearing positively radiant, the petite redhead had the eyes of every smiling face in the audience on her from the moment she stepped onto the stage and led her band into "Close Call." No matter how hard co-vocalist Blake Sennett tried, he was never quite able to hold court the way that Lewis did over the crowd. A beautiful actress with a gorgeous voice, a sexy pout, and a smile that goes on for miles – no man can compete with that!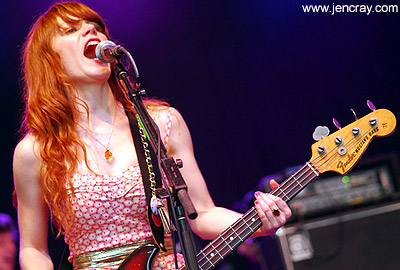 The band's time in the sun is another weekend highlight for many. As for me, Jenny Lewis spit her used guitar pick in my direction, which I greedily scooped up. Better than a t-shirt, I got my Bonnaroo souvenir!
Nailing down another memorable moment in a performance that many missed were Oscar winners Glenn Hansard and Markéta Irglová, stars of the indie film Once, who brought celluloid to life in the form of their band The Swell Season. Playing covers in addition to original songs that appeared on both the film's soundtrack as well as the band's debut disc, the couple's presence onstage together gave anyone who saw the film their happy ending. Songs from the film, like "Falling Slowly" and "Say It To Me Now," inspired the biggest applause.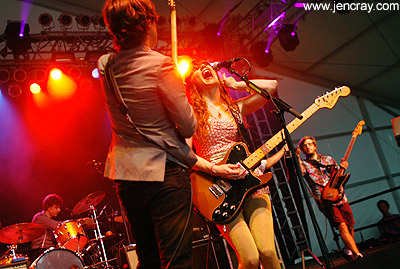 Stepping over picnicking concert goers camped out in front of the massive What Stage, I squeezed my way into a narrow gap between a sleeping couple on a dirty blanket and a shirtless dancing man with a blank stare on his sunburned face to catch The Raconteurs daytime set. Watching one of your favorite bands on a giant screen because the stage is so far away that the band is barely visible is not the best experience, but I made do.
With a setlist that was heavy on the Brendan Benson songs, the unintentional band leader, Jack White, tried his best to shy away from the forefront. For almost the entire opening song, "Consoler of the Lonely," White played with his back to the vast crowd, only stepping up to the microphone to sing his lines. His moody aura didn't seem to fade until about halfway through the set when the irresistible draw of sending out guitar solos over a sea of upturned faces seemed to shake him out of whatever funk he was in.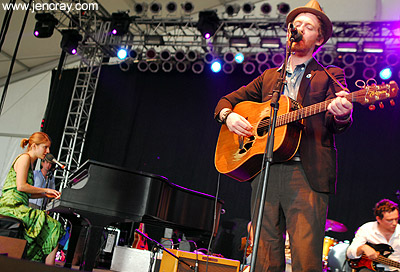 Though the Nashville band's performance was tight as ever and full of guitar dueling jams, they didn't seem to share the same innocent playfulness of their inaugural tour in 2006. During a particularly impressive "Blue Veins," White tripped over his guitar chord and continued playing while laying on his amp. It was a mistake that turned into a brilliant moment, but when immediately following that incident a microphone cut out on him, he removed his guitar and stormed off the stage while the remaining members wrapped up the song. Was it frustration, or all part of the untouchable persona that is The Raconteurs?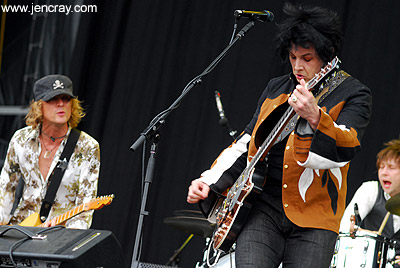 This band was supposed to be Jack White's restriction-less outlet. Whereas The White Stripes are steeped with rules – that he put into place himself – The Raconteurs was supposed to be his way to shake loose and have fun with the boys, so to speak. Why then did this performance feel so serious? So premeditated?
A five-song encore closed out the bittersweet set, culminating with one of the band's strongest songs, "Carolina Drama."
For those who missed Bonnaroo 2008, fear not, you can watch almost every second of every performance on YouTube. Hell, you probably watched it all while it was happening live on the FUSE Network without having to shell out the cash for a ticket or a tent.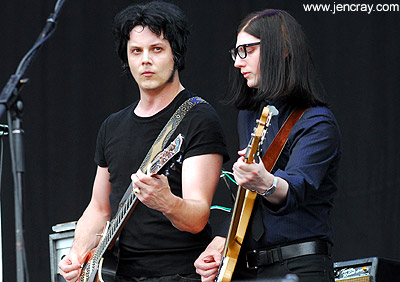 I fear that as these summertime music festivals grow and multiply, they will only lose their spontaneity and luster. Gone are the days when a festival was a once-in-a-lifetime experience, had only by those who were there.
To see more photos of this show, and others, go to [www.jencray.com](http://www.jencray.com/bands_live.htm).
Bonnaroo: http://www.bonnaroo.com ◼
---