The Strangers
directed by Bryan Bertino
starring Liv Tyler, Scott Speedman
Rogue Pictures
Masks are creepy. Whether it protects a noggin from the effects of a fierce slapshot, hides those pesky facial deformities, or shields a surgeon from a myriad of deadly diseases, donned under just the right circumstances, a mask is unnerving at best, terrifying at worst. Actually, it's creepy anytime, and The Strangers takes full and frisky advantage of this haunting horror flick staple.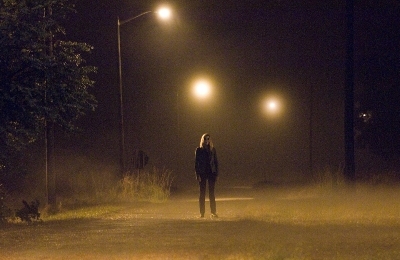 James (Scott Speedman) and Kristen (Liv Tyler) are meant to have a romantic weekend away, but after a bit of a tiff that takes up too much – unnecessary – expository time, they find themselves unhappily stuck together in the family summer home that is conveniently located in the middle of nowhere, a.k.a. in a dark, scary wood.
And then, a knock at the door.
What ensues is an unexplained and brutally bloody harassment of the couple by three eerily masked individuals – "inspired by true events," no less – as the estranged couple pluckily attempts to survive the night. Bryan Bertino's script and direction gamely account for any possible viewer skepticism of how the couple mismanaged to contact help and get away (Land line? Cut. Cell phone? Burned, baby, burned in the cozy cabin fire), but the film fails to fully immerse the audience in the horrors portrayed on screen. The couple's inessential backstory gives us little to grasp onto, and we never have an inkling as to why these carnival killers are, well, killing. Is a complex and clever plot necessary for the average, jump-out-of-your-skin horror flick? Absolutely not, and there are more than a handful of cowering, face-behind-hands (albeit, fairly predictable) frights accompanied by spooky, old-school record music that make The Strangers good, solid Friday night fun. The question remains, however, that if that suited, strangely wheezing figure wasn't capped with a ghastly burlap sack of a face, would his freakish image or the movie he infiltrated haunt and startle us so? Probably not, but that just proves how terrifying a mask can be.
The Strangers: http://www.thestrangers.net