The Frantic
BackBooth, Orlando, Fl • July 21, 2008
Jen Cray
The Frantic performed as if Orlando's Backbooth was packed tight with screaming fans when in reality, of the 30 or so people in the audience, only a small handful seemed like they had paid the admission price to see them.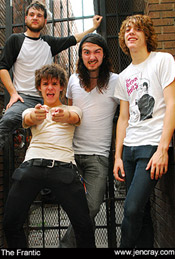 Maybe it's youthful idealism, or maybe these four young dudes from Chicago were just so ecstatic to be spending another teenage summer touring the country that they didn't care whether the room held five fans or 5,000. Either way, these guys were just pissing themselves with happiness – just to be playing!
Touring this time around with emo pop act Treaty of Paris seemed like an odd pairing to me, but as bassist Chris Farnesi explained, "We like to tour with all kinds of bands, and Treaty of Paris are not only really good, but they're really good guys."
But who has been Farnesi's favorite band to play with? "Riverboat Gamblers," he answered quickly.
This doesn't surprise me because not only does The Frantic's debut album Audio & Murder sound like it was cut from the same cloth as the last Riverboat Gamblers disc (they employed the same producer, Mudrock), but the boundless energy of every member of the band onstage is also comparable to the Gamblers.
Singer/guitarist Kyle Dee has got all the makings of a great front man, and he's not yet legal to drink! Even before he hit the stage I saw him introducing himself to fans in the crowd, a pair of whom responded with a gleeful giggle and an, "I know who you are!" Confidence radiated from him, yet never crossed the line into arrogance. Onstage he posed for the cameras, leaned his guitar into the fans down front, and frequently thanked those in attendance in a tone that felt genuine.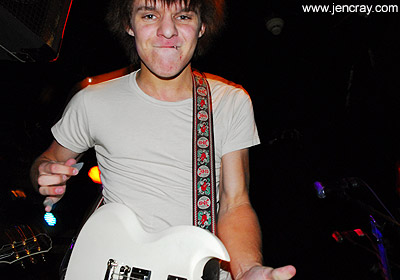 "This was one of the best crowds we've had on this tour," he told me after the show, "and it's our first time playing (Central) Florida!"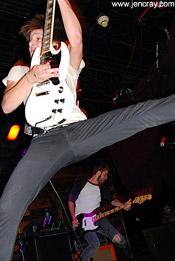 The band's fast paced set gave time to almost every track on their album, and – as on record – the strongest songs were "Audio & Murder," "Fast Girls," and "Big Poppa." "Movin' Along" was a song that had never made much of an impression, but it bloomed into a beauty live, especially with its sweet "Let's hear it for love!" introduction. Slipped into the set were a pair of brand new songs, "Count Without the 'o'" and "Bank," that are still in demo form, but which sound very promising. The band's fun time cover of The Foundations' "Build Me Up, Buttercup," was also a big crowd pleaser!
When the boys of The Frantic ended their set, they were soaked to the bone with sweat and, in one case, with blood. "I kept hitting my head on the speaker," guitarist Ian Farnesi laughed, as he showed me the small gash on his forehead.
The young and bloody Frantic will be doing a few Warped Tour dates this summer, followed by a small tour with The A.K.A.s. Even if you're not a fan of pop punk, these kids will win your hearts in an instant.
To see more photos of this show, and others, go to [www.jencray.com](http://www.jencray.com/bands_live.htm).
The Frantic: http://www.thefrantic.com ◼
---