The Queers
The Independents, The Hi Life, Tooth and the Enamels
The Social, Orlando, Fl • September 12, 2008
Jen Cray
"The Queers are here," proclaimed the graffiti tag on the speaker stack.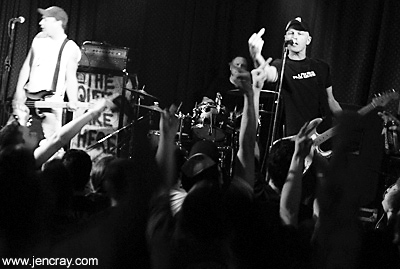 No, it wasn't gay pride night at The Social, it was a punk rock show that found veteran band The Queers topping off an eclectic four-band bill on a hot, muggy Friday night. With the exception of a six-year hiatus in the mid to late '80s, these guys have been making music since 1982. Twenty six years worth of fans packed the small club.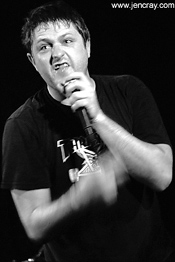 In true Orlando fashion, the two local bands who opened up the night received as much love as the headliners, if not more. Tooth and the Enamels delivered their usual blend of "songs about dental hygiene and zombies" as the crowd got the pit in gear.
With their Dead Kennedys inspired attacks on nonsmokers ("Fuck You I'm Cool") and emo kids ("Guys with Girl Hair"), this scruffy band of misfits always inspires a reaction from the crowd, and is not a band that an audience can turn its back to. A disinterested viewer may very well get a verbal lashing ("Get away from the bar and get down on the floor!" front man Tooth commanded), or may even get bonked in the back of the head by a tossed beer can, courtesy of the band's drummer, Rob Chuck Cavity.
Though the locals got their kicks during Tooth and the Enamels' set, it was for The Hi Life that they really went ape shit! For them, the circle pit widened and, had the crowd been tight enough to hold diving bodies, crowd surfing may have commenced. The Orlando quartet is from the school of punk initially ushered in by The Ramones. Their songs are short bursts of adrenaline that are given a sexy feminine element by the inclusion of bassist Angie Lee Roth on backing vocals.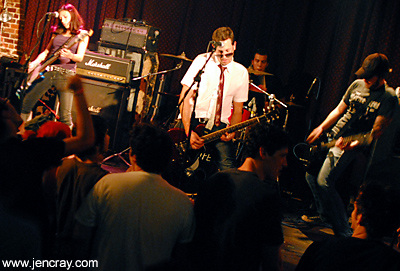 A pair of covers, one by The Huntingtons and one from – of course – The Ramones, is slipped into a tight set of songs that may not be breaking any new ground but are still damn fun to listen to!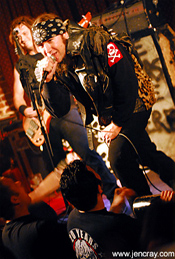 …a lot more fun than listening to Danzig and Elvis Presley songs reincarnated in a ska punk style, which was exactly what The Independents subjected us all to. It was obvious from the first breath that front man Evil Presly was digging for a Glenn Danzig tone in his deep baritone, but attempting to cover "Mother" found him stepping over the line and many middle fingers found their way into the air to show the band what they thought of the band's ability to cover the dark master of the macabre. The Elvis cover "Suspicious Minds" was only a touch more successful. For the record, the band tossed in a Ramones cover as well, which was a bit more legitimate considering that Joey Ramone acted as The Independents' manager from 1995 until his death in 2001.
Their unimpressive set ended with guitarist Willy B chomping down on a blood capsule that spilled fake blood down his chin and onto his t-shirt. Though a neat trick, it was too little and too late.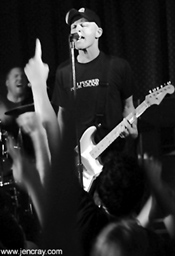 The Queers can play four songs to the average band's one. Their bratty bursts of brain-tickling fun quickly kicked the fans into high gear and the sort of playful madness one comes to expect at these sorts of shows filled the room with its youthful stench. Fights broke out, kids got kicked out, beers were tossed, and throughout it all, Joe Queer, Dangerous Dave, and Lurch played the soundtrack to another crazy Friday night of drinkin' (for most), druggin' (for some), and shruggin' off any responsibilities that daylight hours may demand (for all).
The songs went by so fast I could hardly keep track, but I did catch "No Tit," "I Hate Everything," and "Punk Rock Girls" before their power chords flew past me and into oblivion. This band has been making music almost as long as this reviewer has been breathing, so kudos to any band that can not only keep chugging along after so many years but still sound vital and fresh!
To see more photos of this show, and others, go to [www.jencray.com](http://www.jencray.com/bands_live.htm).
---