Modern Masters Volume 16: Mike Allred
Edited by Eric Nolen-Weathington
TwoMorrows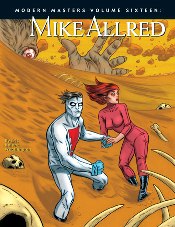 The list of important superheroes created since the 1990s is small. Mike Allred's Madman belongs at the top of that list, followed by Mike Magnolia's Hellboy and Brian Michael Bendis & Michael Avon Oeming's Powers. These are the select few heroes that will have any lasting shelf-life alongside the iconic Marvel and D.C. characters.
That being said, Modern Masters Volume 16: Mike Allred is a must-read for anyone who appreciates Madman. Modern Masters is a series that profiles modern artists through in-depth career-spanning interviews filled with wonderful reproductions of the original pages. Let me get one small criticism out of my system now: there's no way Allred should be the 16th subject in the series, especially since half the earlier volumes feature run-of-the-mill (albeit talented) superhero artists. Allred is also a writer and creator, which makes his status as a "modern master" truly deserved.
Eric Nolen-Weathington orchestrates the 84-page interview (accompanied by a 34-page art gallery), starting with Allred's recount of his idyllic childhood in the small town of Roseberg, Oregon with a mysterious and artistic one-handed psychiatrist father. As interview subjects go, Allred's life experiences make for an intriguing read: marrying his wife (and colorist) Laura after a nine-month whirlwind romance; covering the fall of the Berlin Wall as a TV reporter for the American Forces Radio and Television Service; using the money from his first movie deal to finance his own film, Astroesque; and releasing a well-received rock album with his band, The Gear. But perhaps his most ambitious project yet, inspired by his spiritual pursuits, is the comic book adaptation of The Book of Mormon, The Golden Plates.
The artwork featured in Modern Masters is amazing. Each page is filled with examples of Allred's work that pertain to the interview, including tons of never before seen artwork. The greatest thing about the folks at TwoMorrows Publishing is that they use the original artwork whenever possible, not reproductions from the finished comic book. You can see Allred's style evolving and it's a rare treat to see the pencils and inks together, usually an honor only given to collectors with the big bucks to buy original pages.
The interview deals a lot with the continually evolving art style that Mike employs. He has always been known for his beautiful, clean line work, but the book shows how often he uses his projects as a chance to experiment with different techniques. He inked Red Rocket 7 with markers! The Spaceman one-shot uses cell animation for the backgrounds. His current book, Madman Atomic Comics, features intricately detailed pencil work, with the textures shining through even after the inking and coloring process.
It's worth noting that Allred reveals a great deal about his relationship with filmmaker Robert Rodriguez and the state of the Madman movie, complete with storyboards! The project has languished for over 10 years, but hold your breath; it looks like it's really on its way.
Mike Allred is currently taking Frank Einstein to a new mind-bending level in Madman Atomic Comics. Modern Masters deftly accomplishes the task of providing a deeper, broader understanding of his work. Go pick up this book and get inside his head. It's a fascinating place.
TwoMorrows: http://www.twomorrows.com
---