New York Dolls: The Photographs of Bob Gruen
Photographs by Bob Gruen
Abrams Image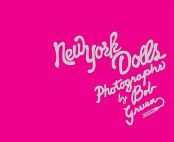 Has there ever been a rock photographer who personified "right place, right time" – with the possible exceptions of Mick Rock and Charles Peterson – as much as Bob Gruen? A Zelig-like figure at ease with the shifting tides of popular music, Gruen was just as comfortable being John Lennon's personal photographer during the early 1970s (at which time Gruen snapped the immortal shot of Lennon clad in a "New York" shirt) as he was accompanying the Sex Pistols during their apocalyptic American tour in 1978. And now we have this beautiful collection, from smack in the middle of that selfsame decade. New York Dolls is an exhaustive collection of Gruen's snapshots, portraits, and live shots of the band between 1972 and 1975, a whirlwind three years which saw the Dolls with the world within their grasp, only for it all to slip away in a toxic mix of drugs, violence, missed opportunities, and dirty dealings.
Some context: In the dawn of the 1970s, a group of rough and tumble Noo Yawk dead end kids flush with a love of girl groups, blues, and British Invasion rock met up, raided their mothers' closets and every trashy lingerie boutique within a ten mile radius, threw together a set of sublimely primal razorblade rock n' roll, and proceeded to change the world. It's difficult to fully grasp the immense influence the Dolls had on late 20th Century popular music. Jerry Nolan, David Johansen, Johnny Thunders, and Arthur "Killer" Kane – in terms of visuals and sonics, for truly they were an unholy yet perfect melange of the two – effectively birthed glam rock (both in the '70s and the '80s), heavy metal, indie rock, and punk all in one mess of hairspray, high heels, and broken guitar strings. They were too good to be true, and there was no way they could last.
Meanwhile, in 1972 rising star shutterbug Gruen, on the recommendation of a Lennon acquaintance, stumbled into the Oscar Wilde (how appropriate!) Room of the Mercer Arts Center to view a spectacle of magnificent weirdness: an overflowing crowd of freaks, socialites, pretty young things, artists, runaways, and outcasts dancing and genuflecting at the stacked heels of a technicolor mess of androgyny and danger. Gruen was hooked. A rock n' roll true believer, Gruen knew he had to be a part of this. So he worked his way into their circle, until he became their "official photographer."
The slim text accompaniment of this book includes a foreword by Lenny Kaye, an almost poetic afterword from Dolls superfan and ressurector Morrissey, and very enlightening interviews with last Dolls standing, Sylvain Sylvain and David Johansen. But we know what you really came here for. Luridly packaged in a shiny pink satin cover (like some gaudy teenage photo album from the 1950s) with silver lettering done up in the lipstick-slashing style of the first album cover, this book is the perfect summation and manifestation of the Dolls' trashy/beautiful aesthetic. Inside is page after glossy page of Dolls idolatry in black-and-white and color. The shots, whether they be candid, live, or in the studio, never seem anything less than perfectly posed. The Dolls lived their gimmick to the hilt and had a fucking ball doing it.
The Dolls embodied a seductive hybrid of savvy street punk and femme fatale glamour, executed by men, no less! All of the leading lights of the New York punk scene, whether it be the Ramones, Television, Blondie, Suicide, the Punk Magazine crew – buncha tough guys all – fell for them hard. But, crucially, so did rock n' roll lifers like DJs Murray the K and Wolfman Jack. They knew where the manic pop thrills were in the early '70s. In fact, the photos of the Dolls with Wolfman Jack are particularly touching, as the venerable DJ looks re-energized and overjoyed to be so close to the real thing again. This was no social-climbing scenester.
Gruen's crisp, colorful photos come almost even closer than the music to approximating that initial rush of blood to the head that must have come from laying eyes on the Dolls in those otherwise grim years. They were perfect muses for a reinvigorated Gruen, who made them look every inch the stars they were in his photo shoots. The live shots are a razor-sharp tangle of big hair, cowboy outfits, and gleaming guitars. The studio shots are unbelievably glamorous and seedy; scope out the "Lipstick Killers" gangland homage and the photos from their trip to LA. David Johansen and Johnny Thunders preening in front of Hollywood High and the Frederick's of Hollywood shop in tight jeans and platform shoes is almost too much for me to bear. It's almost hard to believe how quickly and spontaneously everything started… and finished.
New York Dolls is either visual primer for a life truly well spent or one helluva coffeetable book – and pictures of the Dolls still have the ability to shock, some thirty years later. What more can you ask for?
Abrams: http://www.abramsbooks.co.uk
---