Hot Water Music
Ninja Gun
House of Blues, Orlando, Fl • December 27, 2008
Jen Cray
When Hot Water Music began 2008 with a few reunion shows it was big news, at least within the punk and hardcore communities. The band had split in 2005, during which time vocalist/guitarist Chuck Ragan embarked on a solo career and the remaining three members of the band kept making music – with an additional guitarist – as The Draft. Both projects have toured extensively, selling out venues across the country and when, in late 2007, it was leaked that fans may actually see the Hot Water Music moniker up on a marquee once again, the buzz in the blog world was fierce.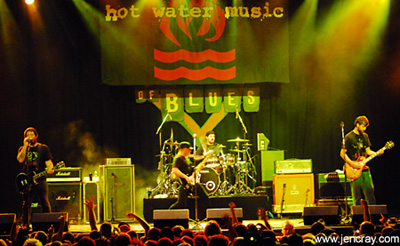 So why, less than a year after the Gainesville band's first reunion show, was their show not only half empty, but the crowd half asleep? Have fans tired of them so quickly? Or was the bill too weak to coerce an audience to fight the Christmas weekend traffic and pay the $16 door price?
Partial blame could be placed on Naked Raygun for canceling their opening spot on the bill. The Chicago punk legends (who have been on again/off again since first forming in 1980) were a no show because of a snow storm in the Midwest that kept their plane grounded. Word didn't get out to the fans until they had already shown up at the box office to get their tickets. Smiles were not in abundance around that will call window.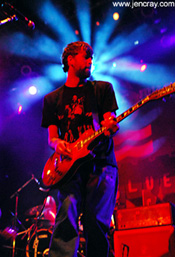 Left as the sole pre-headliner entertainment, Ninja Gun played an extended set that began to wear on my last nerve. The Atlanta act sounded like a countrified Green Day covering Soul Asylum. They have an alternative rock circa 1995 vibe that gets lost inside of their southern roots, and though they quickly found some fans in the audience I was not one of them. A cover of "This is Where I Belong" by The Kinks, a band I am quite fond of, did little to sway my mood. Had this down home set been knocked out of the park by the hardcore onslaught orginally scheduled to follow, everything may have gotten back on course. Instead, an hour of nothing left those in attendance with more than enough time to notice how much elbow room there was and how overpriced the beers were. By the time the curtain parted, even the most avid fan seemed a little bored and bummed out.
Let me preface my discussion of Hot Water Music's time onstage by saying that any failings on the part of the overall experience of the show had nothing to do with the band themselves. From the first chords of the first song ("A Flight and a Crash") the quartet was on full steam, with the always enthusiastic bassist Jason Black on overdrive. The set list dipped way back into the early years, with my personal favorite "Rooftops" popping up early on, and just kept going on – finding the band throwing out one catchy punch of gruff melodies after another.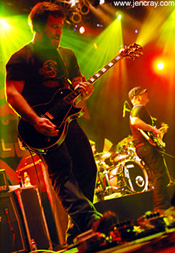 Yet the crowd stood, mostly, stagnant. With the exception of a few fist pumpers, and the occasional crowd surfer, Orlando was not giving the band back the love they were clearly earning. Dual vocalists Ragan and Chris Wollard were every bit as aggressive in delivery as ever, and the supremely tight team of Black and drummer George Rebelo kept it all churning along. Even when a clear audience favorite would heat up, the sudden applause would quickly fade into quiet attentiveness.
Blame it on the muddled House of Blues sound or the poor economy. Blame it on fans that have aged and become parents with jobs and responsibilities that have left them too tired to trek it out to Disney on a Saturday night. Me? I blame it all on Naked Raygun. The post holiday Orlando fans needed an early boost, and Ninja Gun just couldn't deliver it on their own. After a slow start, it didn't matter how on fire Hot Water Music was, the evening had already failed to ignite.
To see more photos of this show, and others, go to [www.jencray.com](http://www.jencray.com/bands_live.htm).
Hot Water Music: http://www.hotwatermusic.com ◼
---