Live from Wembley Stadium
starring Foo Fighters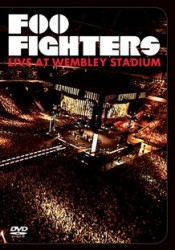 Wow! That was my first impression while watching Live at Wembley Stadium, the latest DVD from Foo Fighters. Then came the encore.
I have been a Foo Fighters fan ever since they released "Monkey Wrench" back in the mid-90's. Now, six albums, multiple Grammy awards, and legions of fans later, they are not only able to rock for two solid hours while entertaining 80,000+ fans, but they look like they are still having fun.
Dave Grohl and his crew blaze through the first five songs without even a hint at a break. They blitz through "The Pretender," "Times Like These," "No Way Back," "Cheer Up Boys (Your Make Up Is Running)," and "Learn to Fly" without a single lull in the music. There is just enough time in the intros for Grohl to say what the next song is. Grohl screams to the point that I swear his voice box is going to pop out and beg for mercy. And that's barely a quarter of the way through.
After "Breakout" and a drum solo filled version of "Stacked Actors," the Foos get their softer side on. They do a brilliant version of "My Hero" during the slower mid-section of the set and Grohl takes on the better part of "Everlong" as a solo acoustic number out in the middle of the crowd on an extremely long runway. That leads into a ferocious end with "All My Life" and "Monkey Wrench." It's amazing to hear that many people yelling the bridge to "Monkey Wrench." They are so in unison that you can not only understand what they are singing, but Grohl appears almost speechless as he is listening to everyone.
But what's a performance in front of thousands of screaming fans and a film crew without an encore? And what an encore it is. Dave Grohl and drummer Taylor Hawkins come out with a guitarist and bass player that are much older than the ones that left. They are none other than John Paul Jones and Jimmy Page of Led Zeppelin. And with Grohl behind the drum kit, Hawkins takes center stage singing Zeppelin's "Rock and Roll." While Hawkins' voice is perfect for the song, he acts more like he's at a karaoke bar than Wembley Stadium. I guess there's a reason why Grohl fronts the band. He is able to grab the crowd's attention and leave them begging for more.
Grohl comes back to the forefront on another Zeppelin cover, a stellar version of "Ramble On." The rest of the Foos come back for the finale, and my favorite Foo Fighters' song, "Best of You." Although the music was fantastic, it was very obvious that Grohl's voice was giving out as he had a tough time with any sort of singing or screaming. Still, it was awesome.
Live at Wembley Stadium is undoubtedly the best DVD that the Foo Fighters have released. It perfectly captures the intensity of a Foo Fighters show and gets you so close, you can almost smell the sweat. Just kick back and get ready to be rocked.
Foo Fighters: http://www.foofighters.com